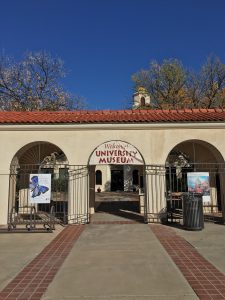 Museum Volunteer Day has been temporarily suspended due to COVID-19 protocols. We will keep you updated as to when this initiative returns.

The University Museum hosts a weekly volunteer day each semester where anyone that is interested can come and learn how to catalog and process artifacts recovered from the 2019 Summer Field School at South Diamond Creek Pueblo. Everyone is welcome, and no experience is necessary! You will learn hands-on at the museum with the help of our friendly graduate students. 

If you are interested in other opportunities to volunteer in the museum, either with collections or with programs, please contact Curator Kristin Otto at krotto@nmsu.edu.

Parking as a non-student Volunteer

You may park in one of our visitor parking spots next to Gardiner hall, or request a visitor parking pass from the NMSU Parking Department.