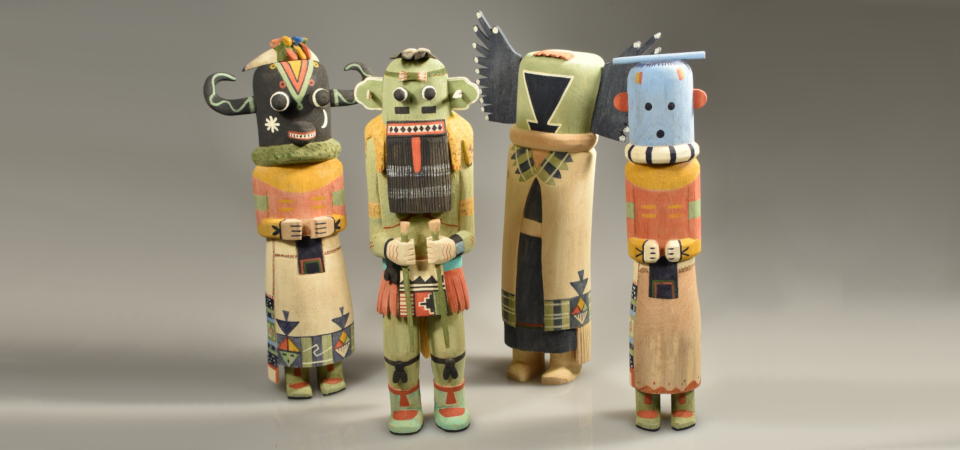 This memorial exhibition honors and celebrates the late Spencer Nutima, a long-time artist and supporter of the museum. Nutima (February 18, 1948 - July 11, 2019) was born in Old Oraibi, located on the Third Mesa of the Hopi Reservation in northern Arizona. Nutima was of the Greaswood Clan, and learned his craft from his grandfather and his clan father. The Museum's collection houses many katsinam carved and painted by Nutima. He did not start carving katsina dolls until 1990, but continued to do so for more than 30 years.
Katsina dolls (katsin tihu) are representations of Hopi ancestral spirits that live in the San Francisco Peaks in north-central Arizona (and other places). They visit the Hopi villages in the Black Mesa during the Winter Soltice season (Kyaamuya).
Nutima previously co-curated the exhibition "Itaa Katsi: Our Life (as Hopi Artists" in 2015, and participated in the Mimbres Workshop and Exhibition "In Sacred Continuum with museum director Fumi Arakawa and in collaboration with Professor Atsunori Ito at the National Museum of Ethnology (Minpaku) in Japan. We would like to extend special thanks to Orin Nutima, Spencer Nutima's eldest son, for sharing his knowledge of his father's katsina dolls and helping the in the preservatino of these artworks. We would also like to thank Nutima's wife Jeanne Tonorio for sharing her stories about his life as an artist. Finally, we would like to thank Robina and Bronwyn, owners of the Keshi Gallery in Santa Fe where Nutima first began selling artworks, for sharing their memories with us as well.