Young Juan Quezada would let his burros rest near some caves while carrying loads of firewood back from the hills to sell in his village of Mata Ortiz. While they rested Juan explored the caves, where he had found ancient pots and potsherds. He became curious about how they were made and about the designs he saw painted on them, but there were no potters left in Mata Ortiz to teach him about pottery. Juan set about to figure them out himself, studying the sherds closely to see what the potters had used and how they had used it. His brother and sisters became involved, and together they began making pottery at their house. As neighbors and friends saw what they were doing they, too, began to re-learn this ancient craft. They began to sell their ceramics to nearby stores. These artists soon became known throughout the region for their ceramics which possessed great beauty, excellent craftsmanship, and innovation combined with tradition.
Juan spent his life perfecting his techniques and teaching others in the craft and he became known for producing artistically sophisticated ceramics that referenced ancient pottery but contained his own interpretation. His siblings also developed some notable innovations. Reynaldo Quezada developed a sanding technique that resulted in a marbled surface post-firing, as well as a technique that created a woven texture. Consolación Quezada was known for her unique engraved design-work, and Reynalda's pottery featured sculpted animalistic elements. Lydia Quezada gained the most prominence of all of Juan's siblings because of her highly skilled works. In the late 1970's she gained master potter status. She and Juan began to show their work throughout the United States. During this time, Lydia met other ceramicists of note including Maria Martinez (San Ildefonso) and Lucy Lewis (Acoma).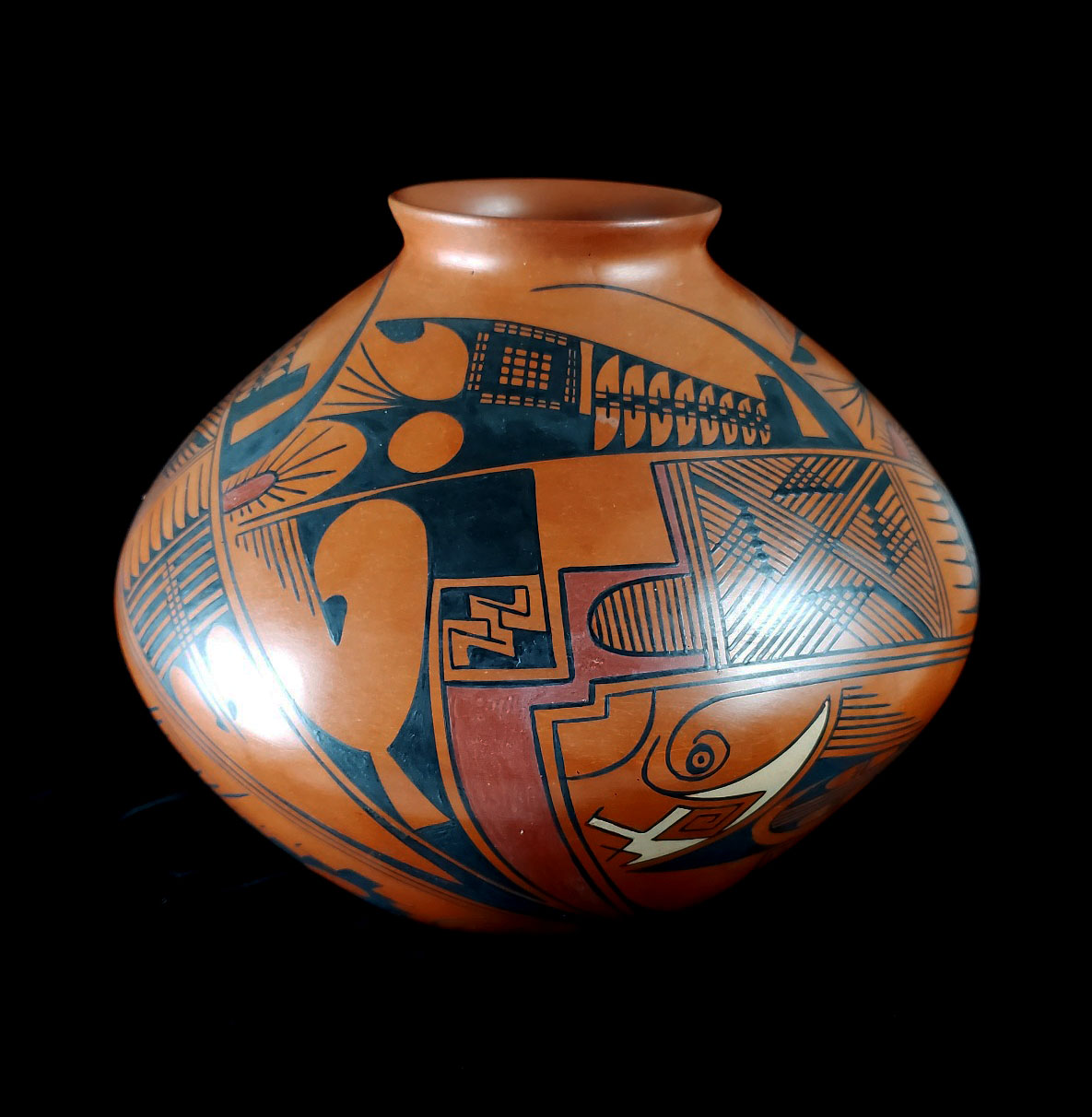 This olla from the NMSU University Museum (2001.02.01) is one of Lydia Quezada's pieces. It wonderfully demonstrates her painting skills and attention to craft in both the structure and the painted designs.
Hughes, Kiara Maureen. 2009. "The Women Potters of Mata Ortiz: Growing Empowerment through Artistic Work." PhD Diss., The University of New Mexico. https://digitalrepository.unm.edu/cgi/viewcontent.cgi?article=1033&context=anth_etds
This program is made possible with the support of the New Mexico Humanities Council. Any views, findings, conclusions or recommendations expressed here do not necessarily represent those of the National Endowment for the Humanities or the New Mexico Humanities Council.