Notes from Curator Kristin Otto: During the Fall of 2021, the University Museum was the recipient of the Institute for Museum and Library Services (IMLS) Inspire! Grants for Small Museums. The award will support ongoing inventory and documentation efforts for the entire ethnographic and historical object collections in storage at the University Museum, incorporating systematic information into a digital database for the first time. This is one of the first steps to making the collection more publicly accessible. As of the beginning of the Spring semester 2022, one graduate assistants has joined the efforts supported by the grant. In this initial blog post, Carly Johnston describe her initial reactions to the project, and her process so far. 
This semester, I began work as a Graduate Assistant at the University Museum to inventory its entire ethnographic and historic object collections. This was made possible by a grant from the Institute of Museum and Library Services. The project has provided me with invaluable skills and knowledge that I will carry with me for the rest of my education and career. I'd like to share some of those experiences, along with my daily activities and some of the trials and tribulations that have surfaced along the way.
I'm currently working with the largest portion of the collection, which holds hundreds of artifacts. It is an enormously diverse assortment with a range of associated time periods and cultures. I am fortunate to be able to learn something new every day. These objects each have personal stories that are told in different ways. A basket is more than just a basket - it is a work of art that holds value to numerous people. Often, the materials are harvested and gathered by the community in which it's made. They are washed, cut, drained, and dyed. The artist takes that material and morphs it into a tangible object, an embodiment of soul, an expression of the mind, crafted by their own two hands. Each loop and weave is an action, each pattern and design a decision. I consider this every time I work with an object.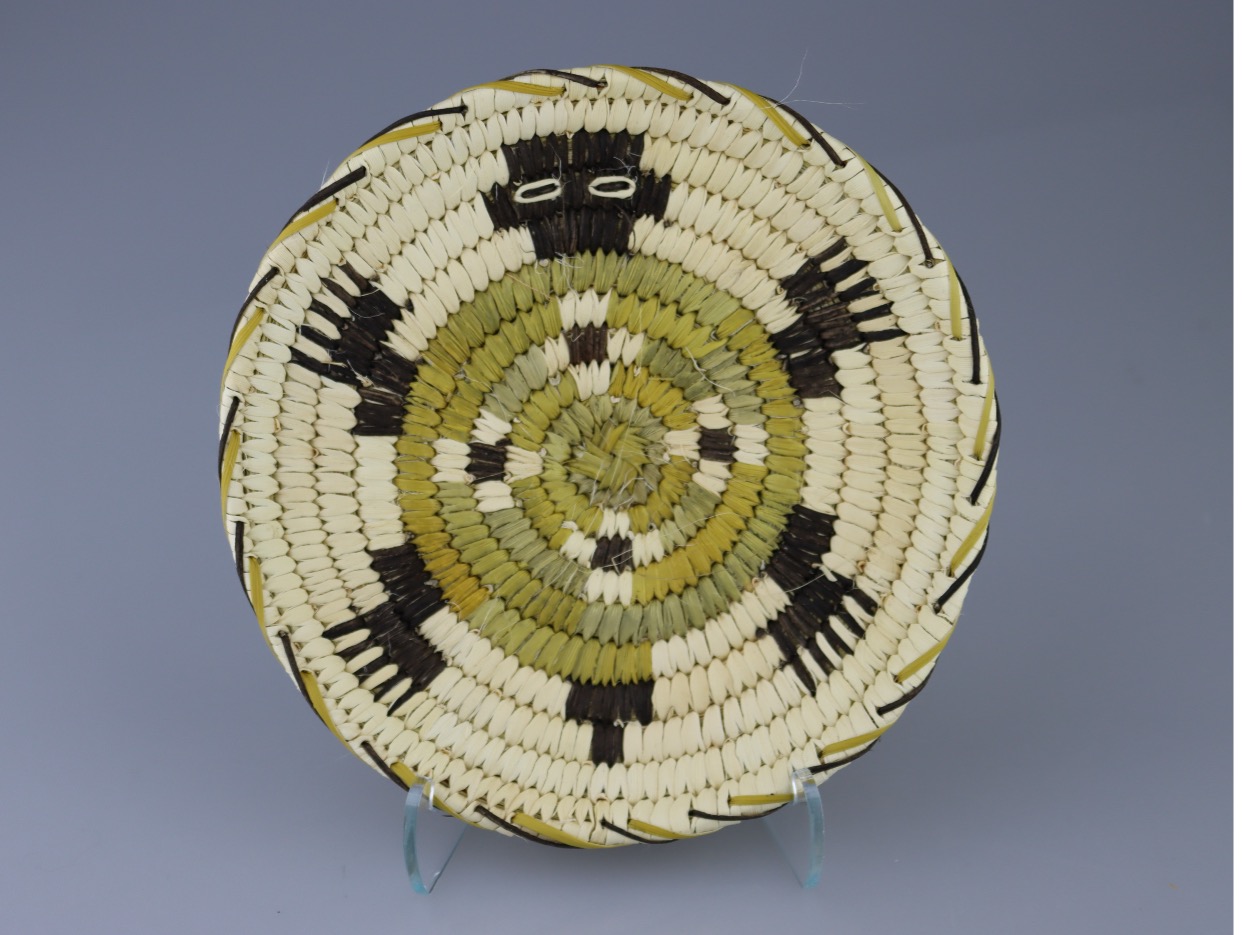 Coiled and dyed decorative basket by Tohono O'odham artist Margaret Acosta. 2014.08.03, University Museum.
When working with objects, I examine them thoroughly and record as much as I can. The first step is usually a physical description in which I analyze the material, color, size, shape, pattern, marks, and design. Every detail is as important as the next. I take care to handle them carefully as I write about and photograph them. I do this for every object on every shelf in every unit. I then package them carefully, with consideration for their needs. For example, certain materials, like organic fiber used in baskets, require an appropriate environment to sustain them.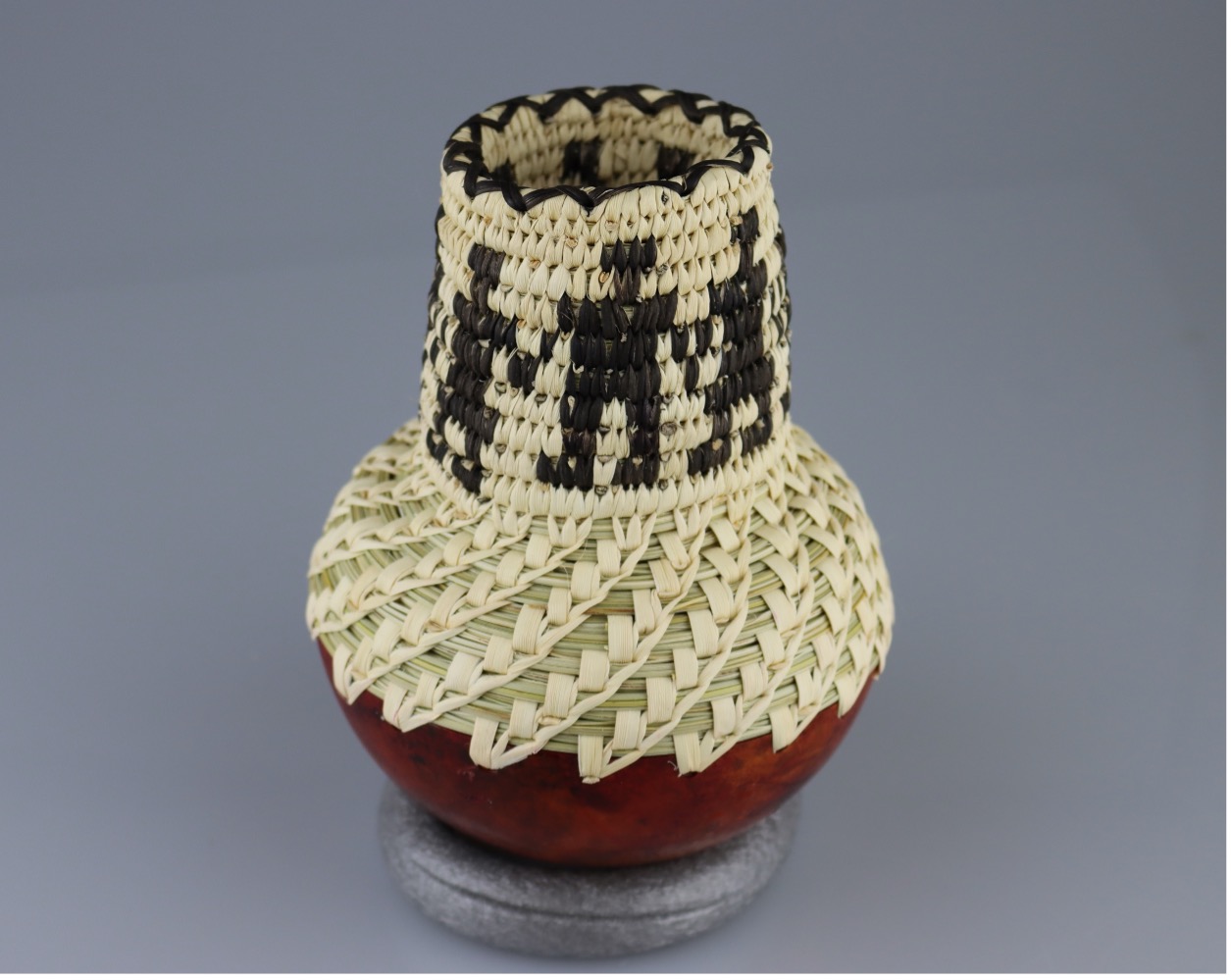 Woven vessel with gourd shell bottom and dyed figures, by Tohono O'Odham artists Mary Pablo and Ernest Pablo, Sr. 2014.10.01, University Museum.
Information about the object is combined and entered into the museum database, which is crucial to maintain a continuous record of the collection and allow for public access in the future. Every object has its own file, complete with a physical description, a condition report, a location, and all its associated information. This includes the digitization of the physical records on file. Unfortunately, past records are not always as complete as we may hope, and can present challenges, so I often have to do some detective work.
It is also well known that historic collection practices result from colonial ideals, but what many do not consider is how those European methods of thought have decided what information has been considered relevant in early museums. It becomes evident when reviewing those records. A major consequence of such is the lack of cultural affiliation or the widespread use of terms which are not culturally appropriate. Currently, we are working to change those as we encounter them. This means adding to or editing documents and the database to include the most current terms and self-given names of cultural groups all over the world. Since several of the collections at the museum have been donated by families of Las Cruces, acquired through the university, or gifted by NMSU alumni, it is crucial that we properly record those connections to ensure access to the heritage of the community. Each item has a story and a life history, and those are equally as important as the artifact itself. It's a big part of my job to pay attention to those details.
This project was made possible in part by the Institute of Museum and Library Services (IGSM-248937-OMS-21, www.imls.gov). The views, findings, conclusions, or recommendations expressed in this post do not necessarily represent those of the Institute of Museum and Library Services.