Undergraduate and graduate students in Curator Dr. Kristin Otto's Introduction to Museology / Advanced Museology Spring 2022 class have been engaged in semester-long research projects with items they personally selected from the University Museum's collections based on their own interests. In order to practice sharing their research with broader audiences, students wrote short exhibition labels and took photographs of some of their chosen objects. Students wrote all interpretive text and took all the photographs you see, and we invite you to explore their hard work with our collections! Additional notes from the curator on object provenance are designated with italics. Many thanks to museum GA Aimee Oliver-Bozeman for help with the course.
---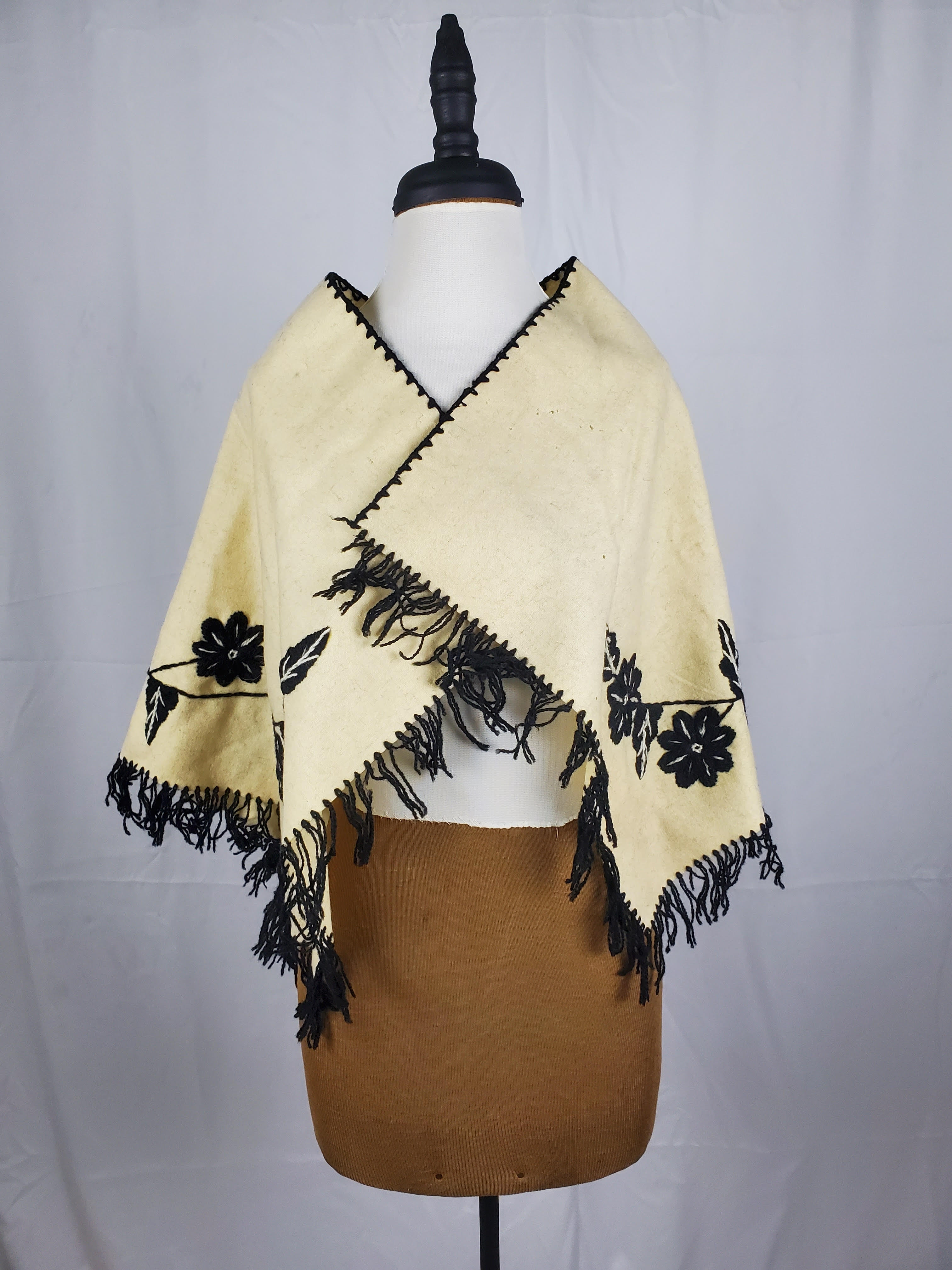 This 1890s shawl belonged to Francesca Lucero de Amador, a member of the locally famous Amador Family. Shawls were a common style during the Victorian era; they were usually made of silk, wool, or cotton. Although shawls were a common style this shawl highlights a hand stitched flower pattern, making it a unique example of local fashion and craftsmanship in Las Cruces.This piece along with many others was donated to the University Museum by descendants of the Amador Family.
2003.31.01, Photo and text by Nikki Andresen, First Year MA Student, Anthropology.
Gift of Frances Pack in memory of Lucille Amador Pickard 
---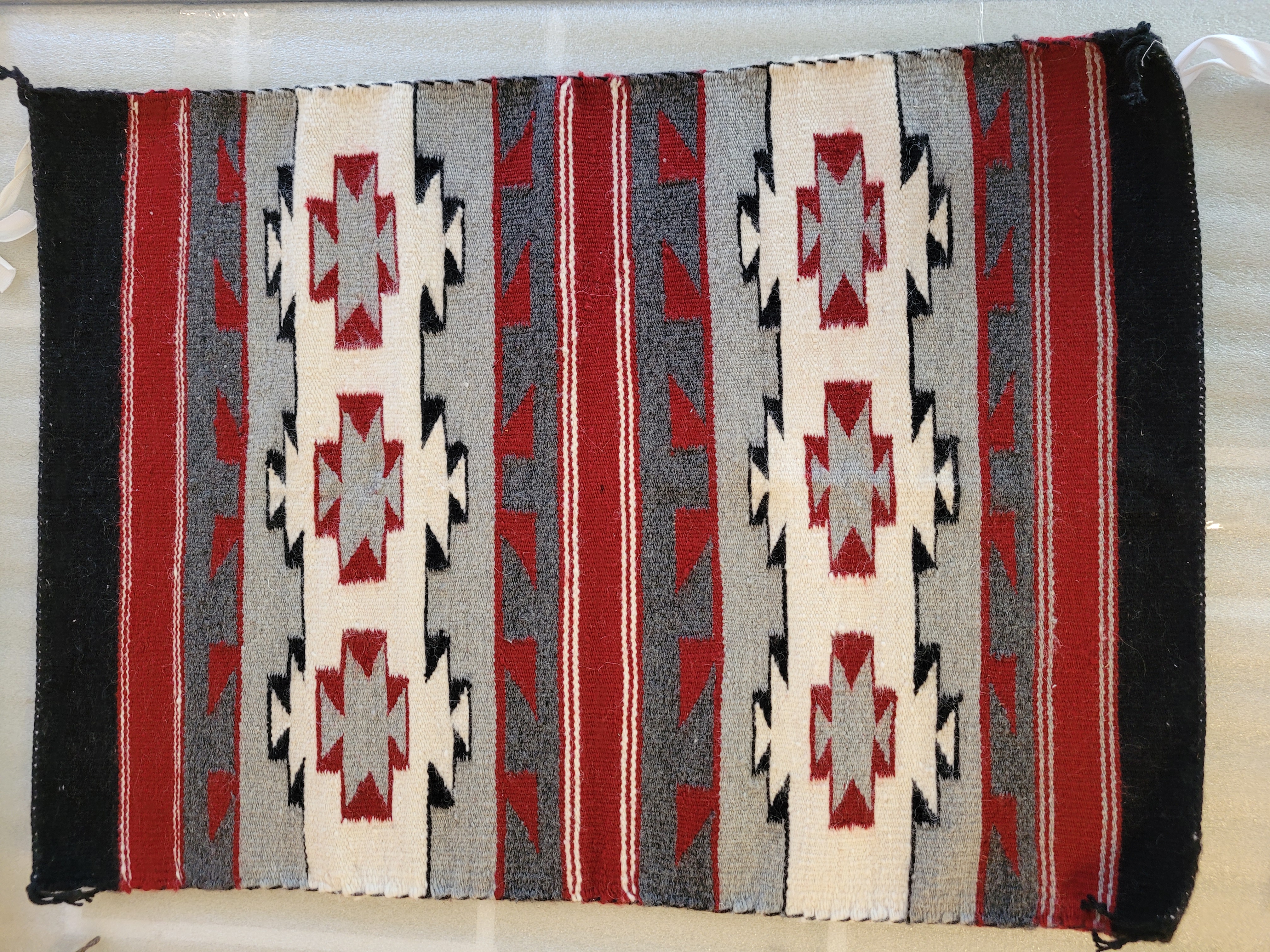 Isabelle Deschine, a Navajo-born weaver of Chinle, Arizona,wove this rug in 2006 and follows a family tradition of weaving. Traditionally made by hand using homemade looms for generations, rugs in Navajo culture tell a story about the weaver and the long hours it takes to make a single rug. Present in this rug are difficult designs that have several geometric shapes throughout with the soft colors of gray, black, white, and red. Within each region of Navajo culture there are different designs with this design being from Isabelle's town of Chinle, which she continued to use in other pieces of work.
2019.10.15, Photos and text by Ramon Salazar Castillo, Senior Double Major in Anthropology and Government Major.
Gift of Theodore R. and Charlotte J. Frisbie.
---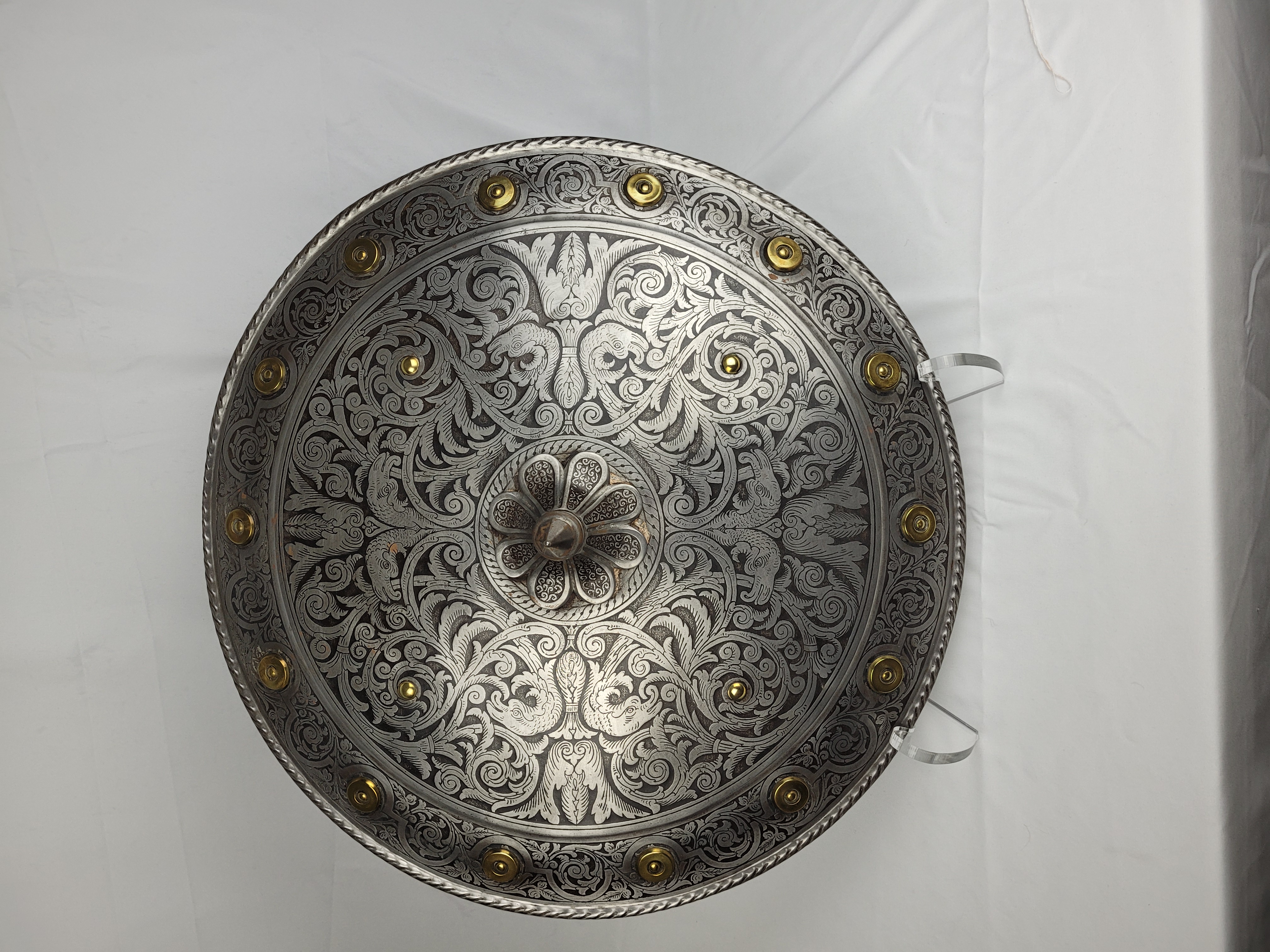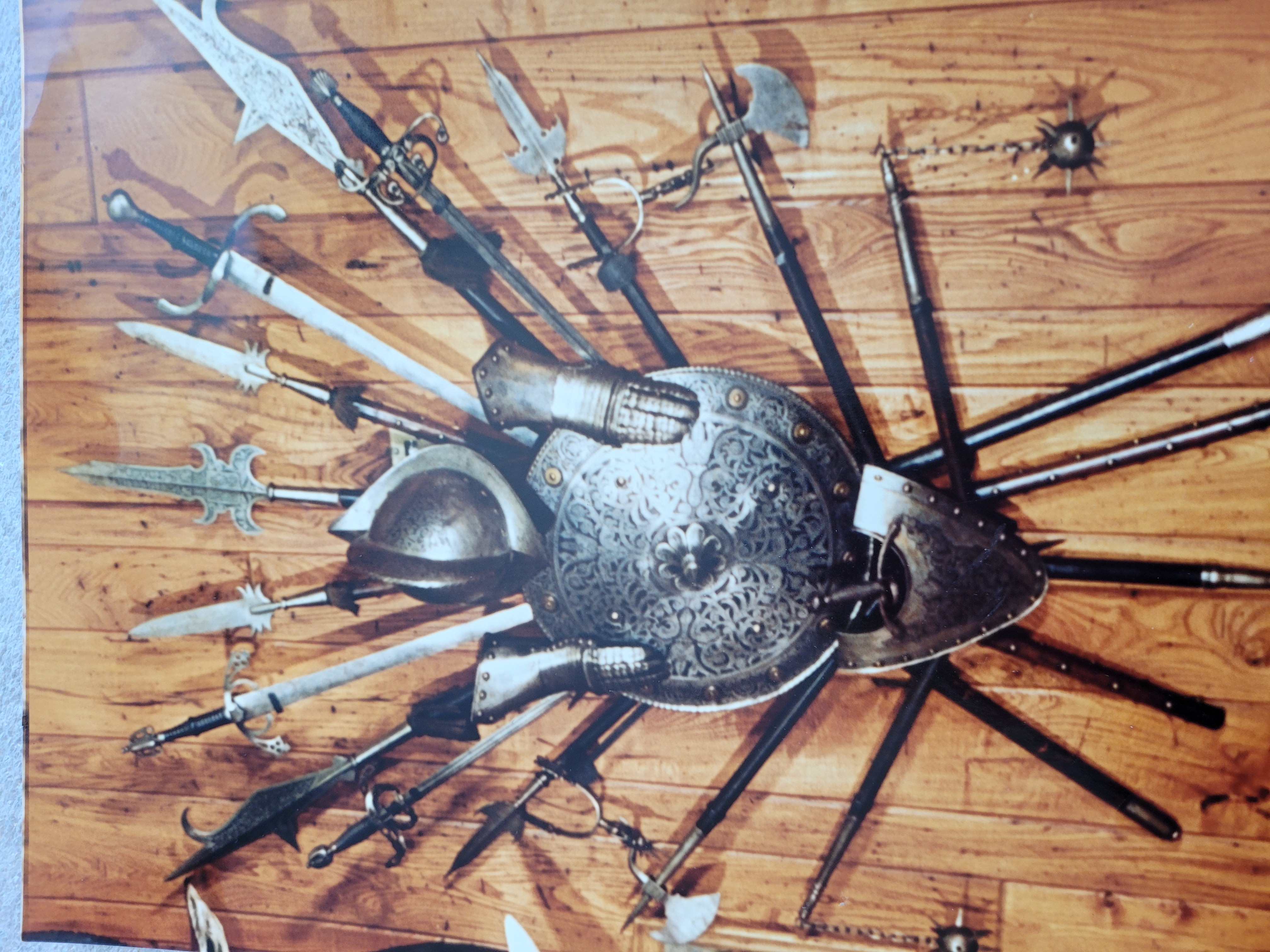 A shield's purpose is to defend the user. It draws the eye of your enemy so that user can raise it to protect themselves. This shield originally sat in the center of a collection of Spanish Arms and Armor, called a panoply, where it would draw the eyes of those who viewed it. With a deadly spike in the center and a beautiful engraving decorating the piece, this shield is both a piece of art and a deadly tool. 
1984.07.01x, Photos and text by Andrew Colwell, First Year MA Student, Anthropology.
Gift of Mr. Rogers R. Aston
---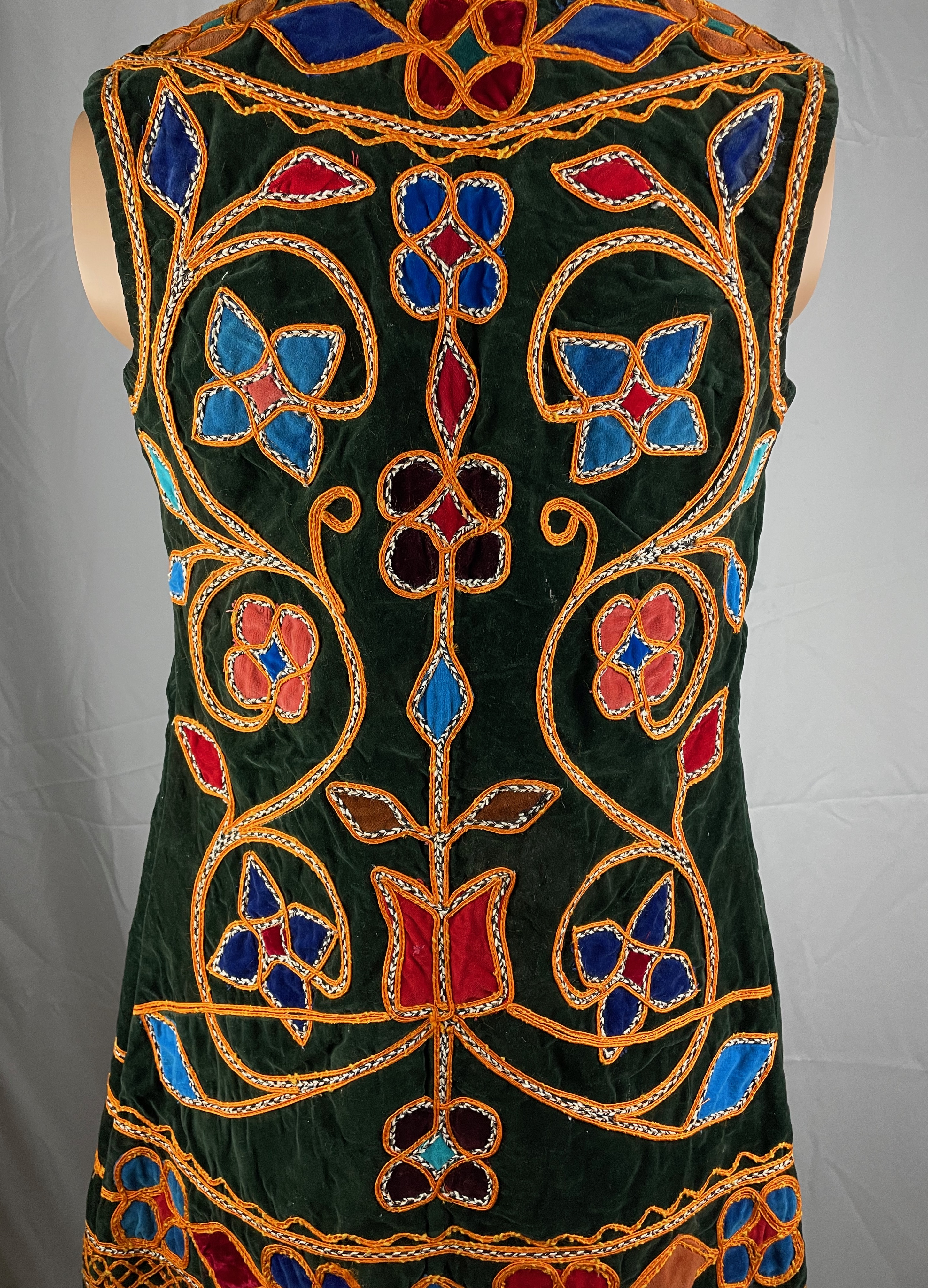 This Iranian vest expresses the vibrant and resilient time of the 1960s. The velveteen vest is decorated with dyed floral and diamond embroidery. The pre-revolution piece sports a Russian style of flat-braided embroidery called Soutache. The inside lining of the vest is made of kenaf. Kenaf is a tropical plant fiber commonly used in South Asia. With only one pocket and no tags, we are left wondering who crafted this piece. A colorful spin on the traditional Iranian costume may be for casual wear or seen among fashionable tourists. Could you see yourself in this vest?
1983.15.23, Photos and text by Tess Drake, Junior Anthropology Major.
Gift of Mrs. Marion Welsh
---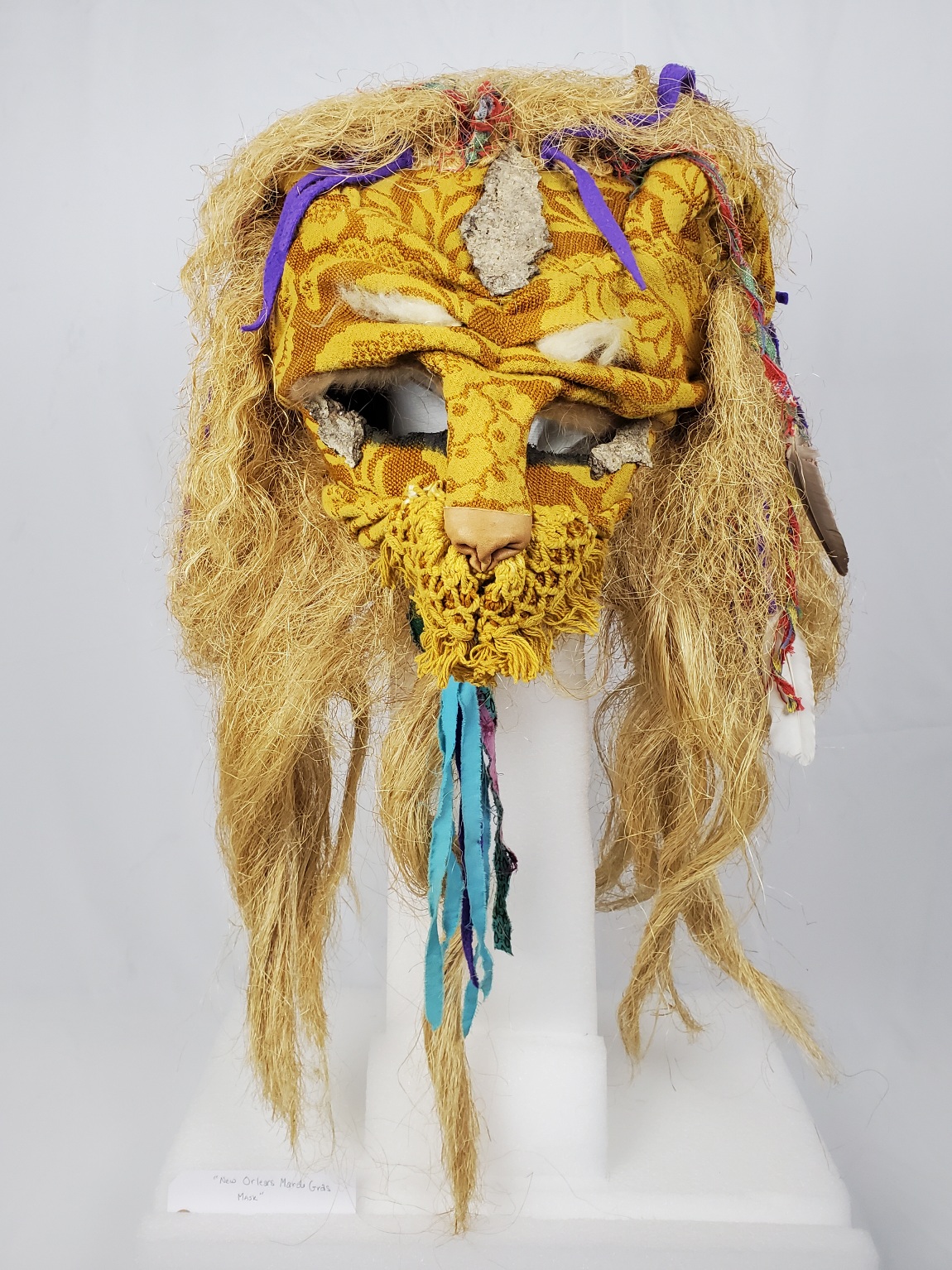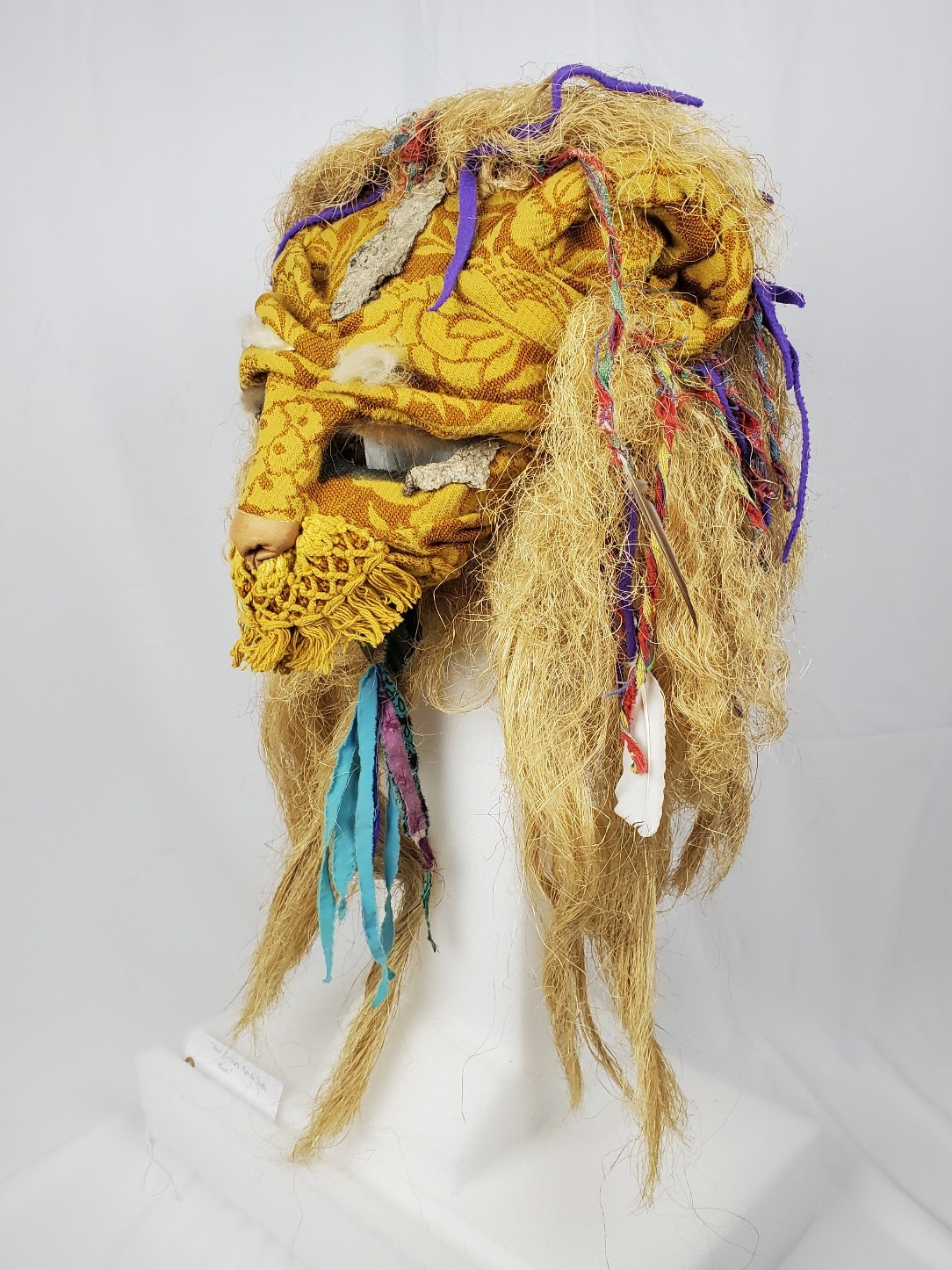 Imagine that you're at a Mardi Gras parade on the crowded streets of New Orleans.  Your pockets are stuffed with candy and plastic beaded necklaces stick to your sweaty neck.  Your ears are full of jazz and noise.  Suddenly you see a flash of yellow and blue movement over the heads of people in front of you.  A lion-person dances past you, their bushy mane swaying as their body mimics the beats of a drum.   You stand on tiptoe to see the rest of their costume – what does it look like in your mind?
2007.06.01, Photos and text by Sara Harper, incoming First Year MA student, Anthropology
Gift of Martha Shipman Andrews
---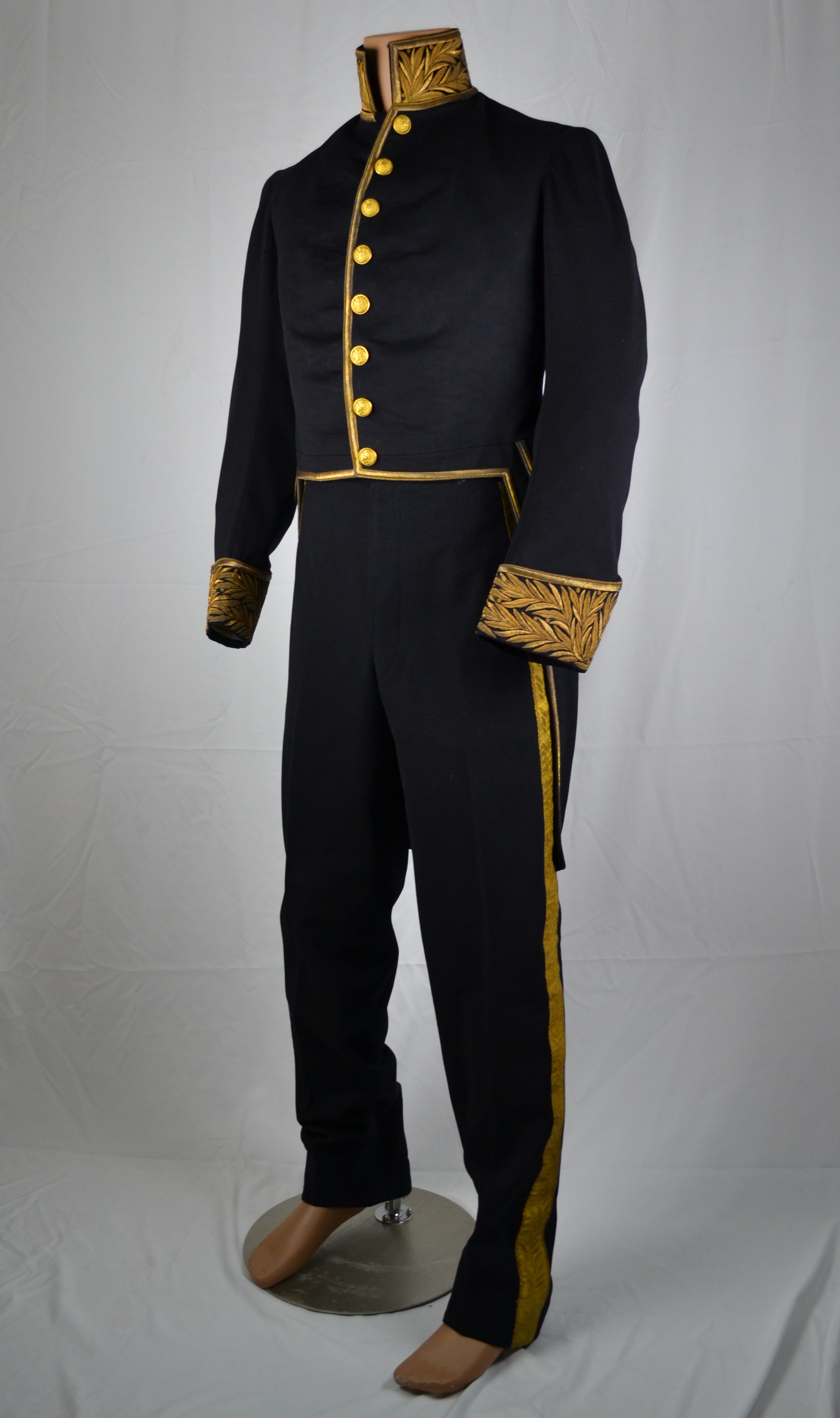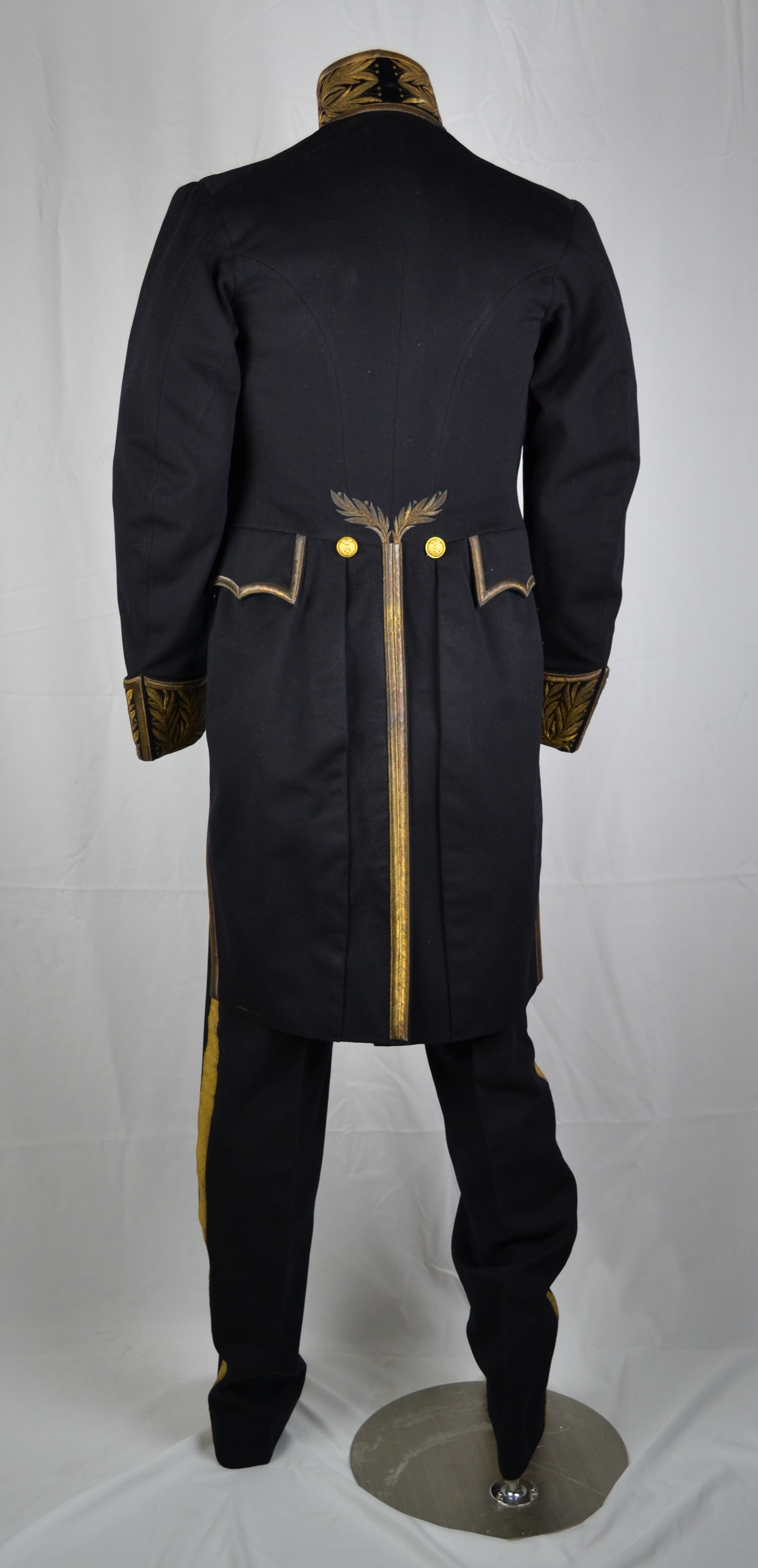 Herbert James Hagerman, the Second Secretary to the US Embassy in Russia and the 17th Governor of the New Mexico Territory, wore this dress diplomatic service uniform while stationed in St. Petersburg, Russia. S. Tedeschi, a local tailor in St. Petersburg, made and tailored this uniform. For men who did not serve in the military, like Hagerman, diplomatic service uniforms along with a bicorn hat were given to wear to public appearances during the 19th century. The gold embroidery along the collar, cuffs, and pant legs makes the uniform more formal than a diplomat's regular civilian clothing.
1982.17.01a & 1982.17.02.b, Photos and text by Samantha Hipe, Museum Studies Graduate Student
Gift of Lowry Hagerman
---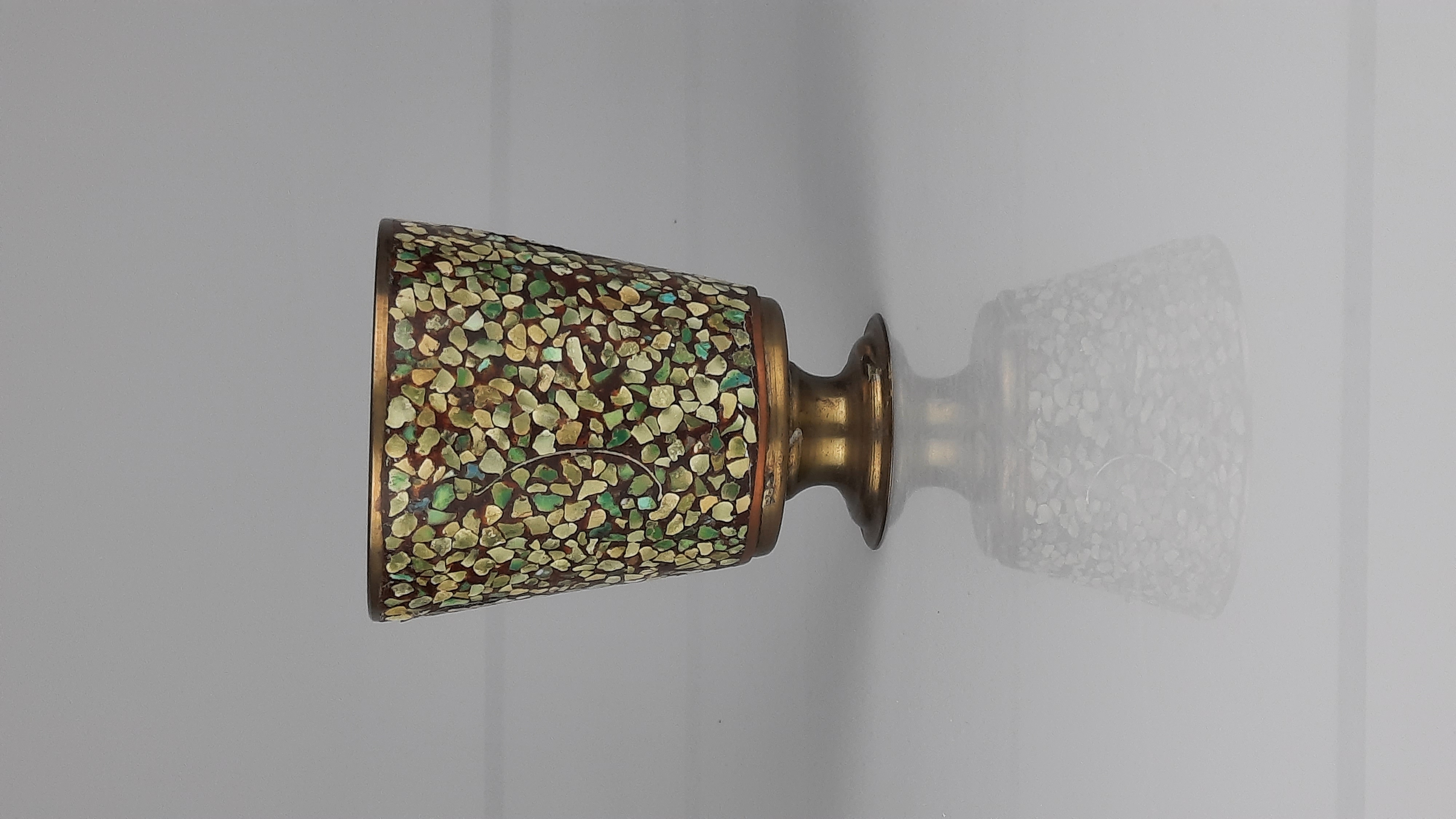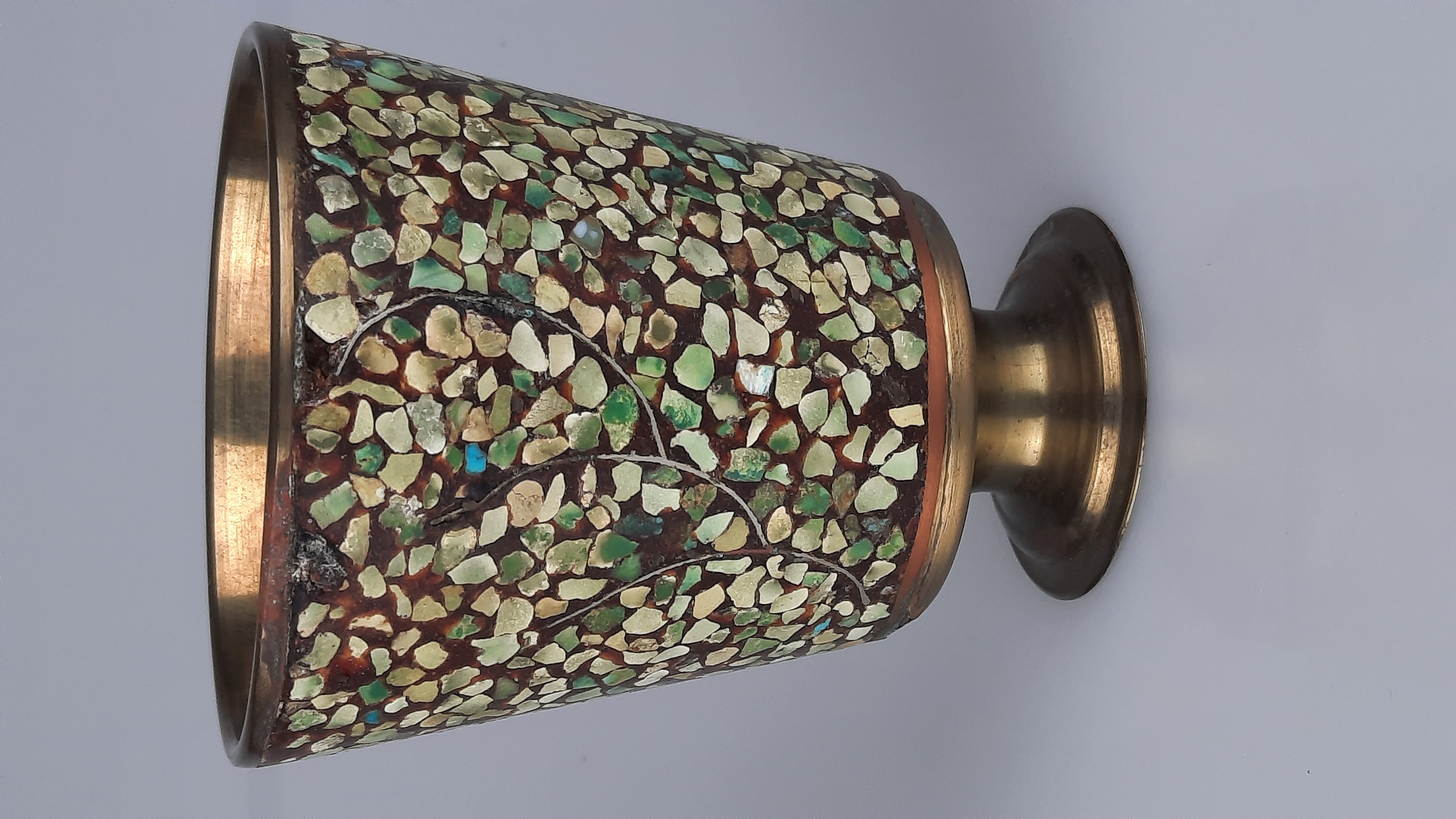 What's the first thing you notice when looking at this object? Perhaps it's the many shades of turquoise chips or the brassy shine of the metal. What you don't see is the intricate process that went into the making. From the purchase of turquoise from surrounding mines in Iran to the long process of shaping the metal from a sheet into a three dimensional cup. Each stone carefully and strategically placed in melted lacquer onto the surface. Slivers of metal delicately bent into inscriptions and hidden within the glimmering stones. This cup holds more beauty than drink. 
1983.15.2, Photos and text by Yasmine Jahangiri, Senior Double Major in Museum Conservation and Theatre Arts 
Gift of Mrs. Marion Welsh
---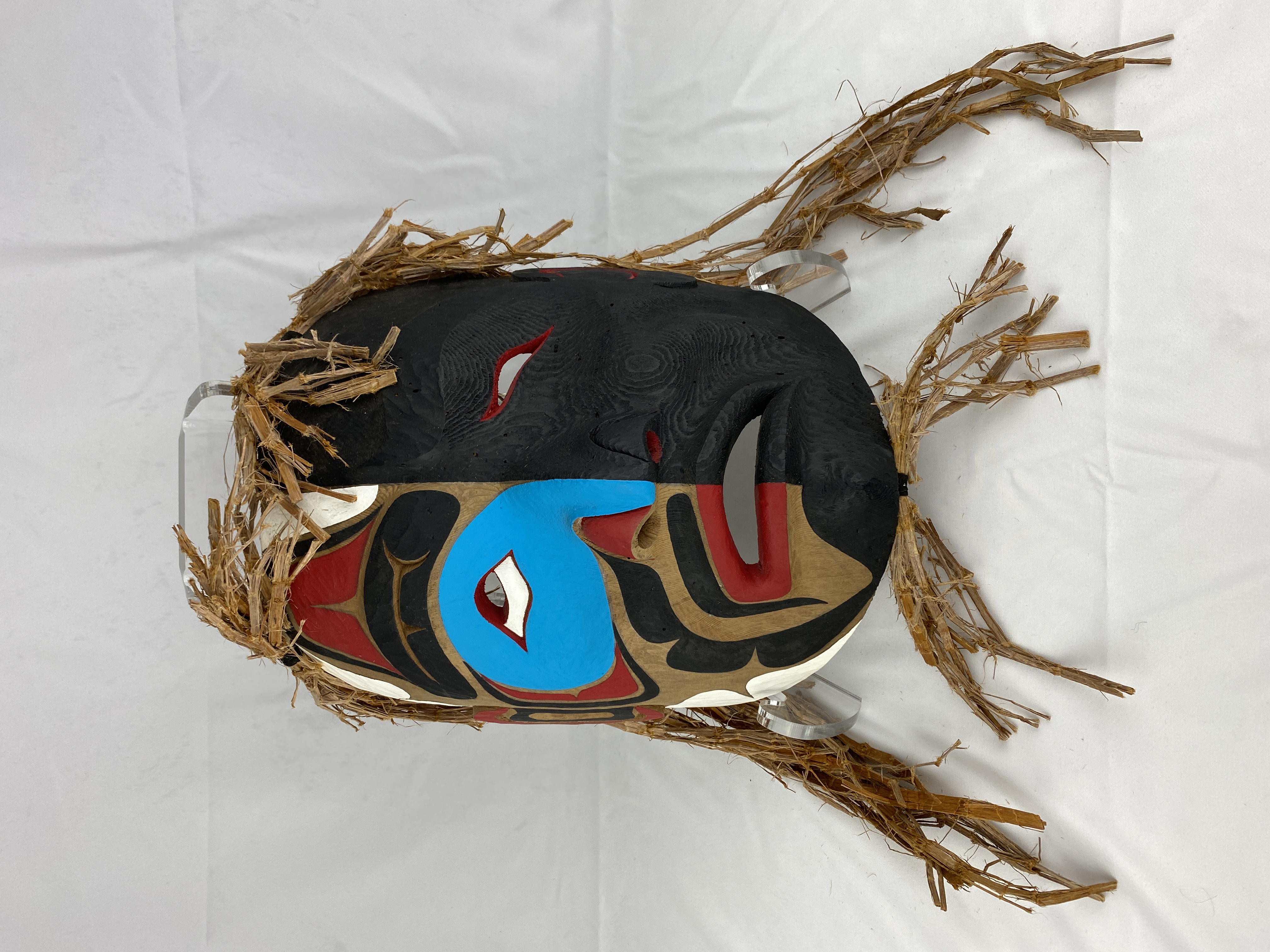 The First Nations of Canada held a ceremony and invited all the tribes. The North Chief bragged about the abundance of fish oil in his village, holding a jar of it in his hands. When he was done, he was filled with so much pride that he threw the jar into the fire. The flames grew tall and burned his face. The story to remind people of the consequences of their actions for generations. This mask, crafted by Kwakwaka'wakw member Andy Bruce, is said to have been inspired by the story.
2012.05.01, Photo and text by Carly Johnston, First Year MA Student, Anthropology
Museum purchase by Dr. Monte McCrossin, from Hills Native Art
---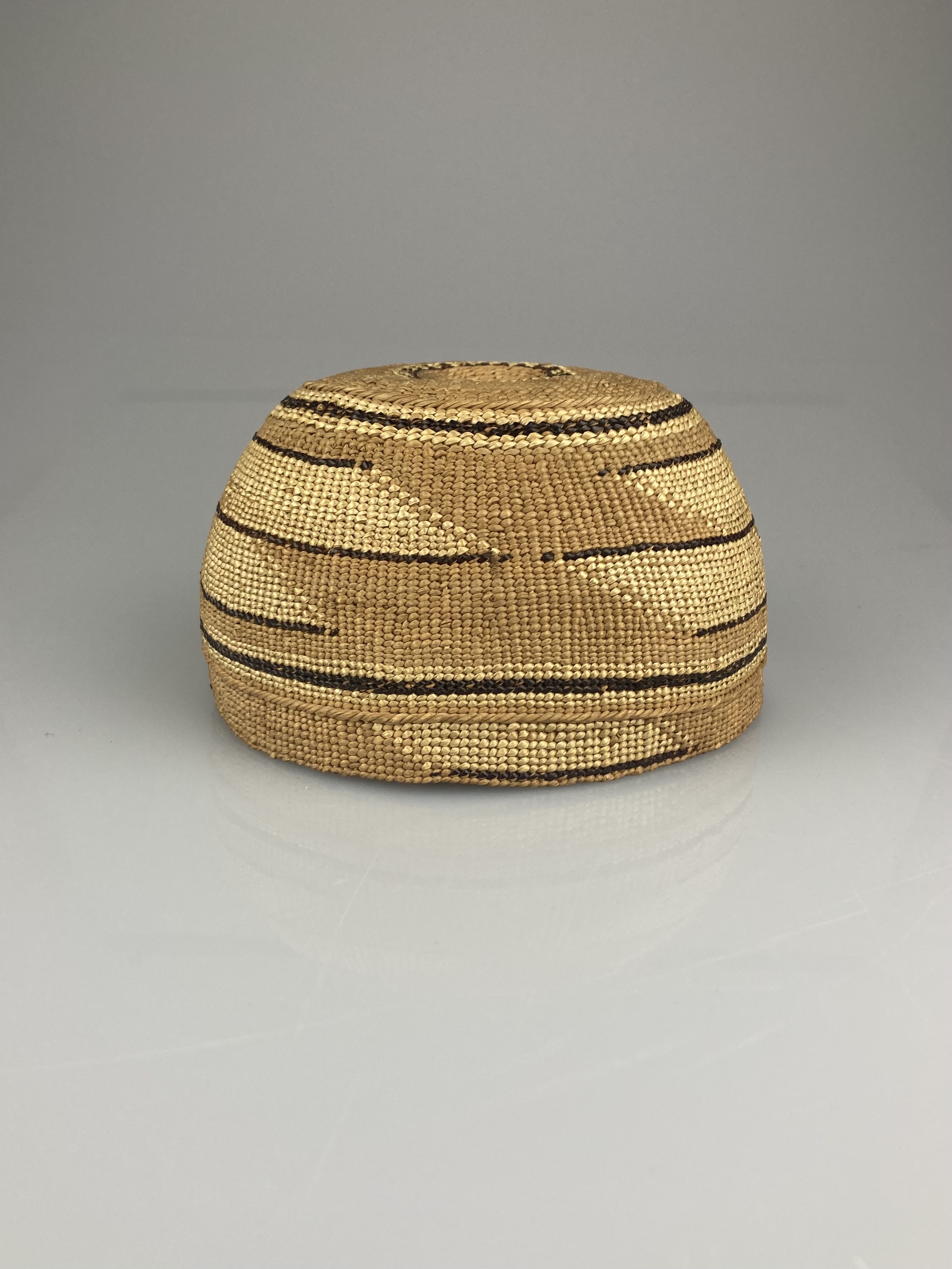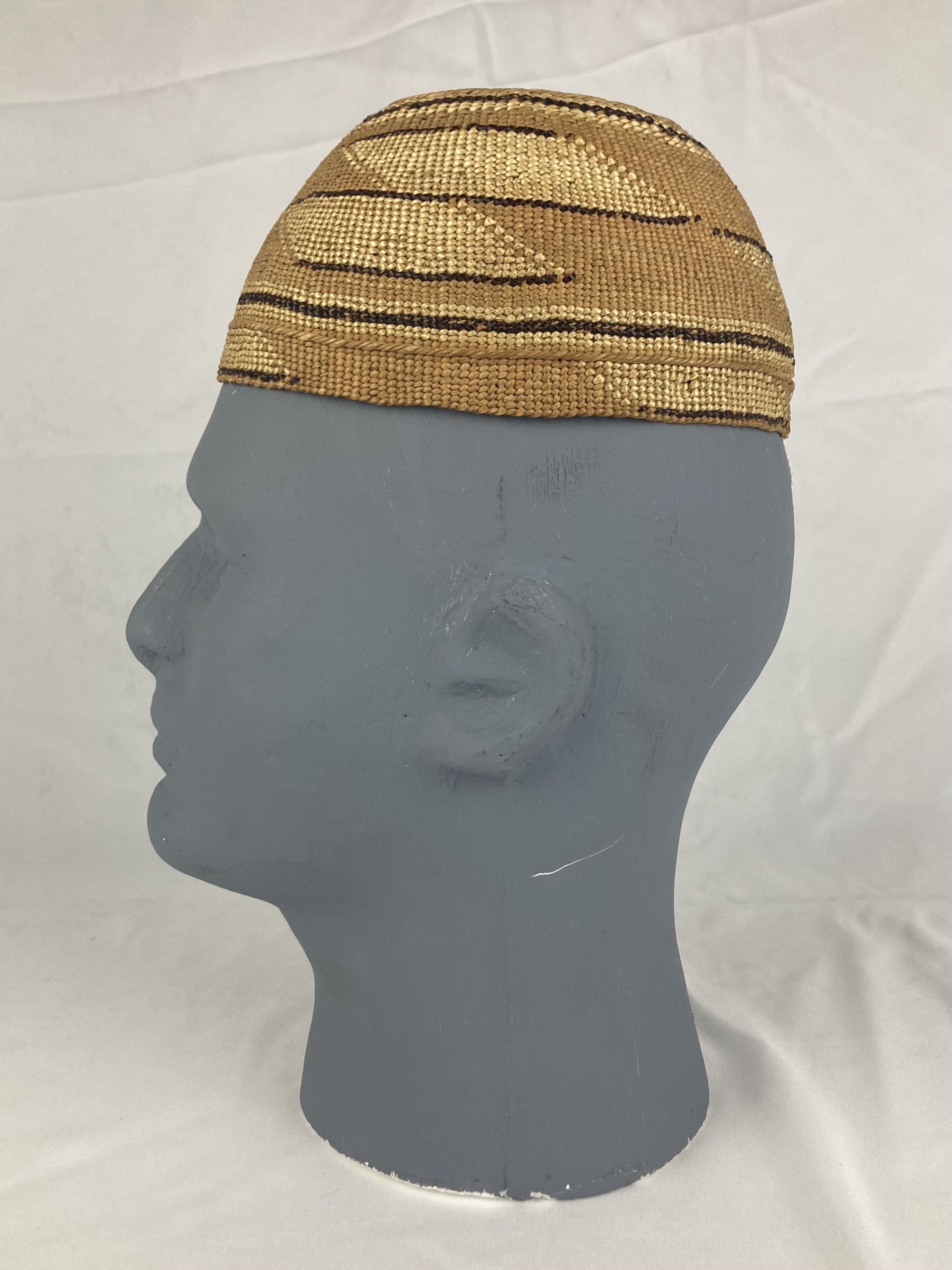 When is a basket not a basket? When it's a hat. 
This basket cap originates from the people of the Klamath River in Northern California. Weaving a cap is no easy task.  The weaver, usually a woman, must meticulously collect fine willow shoots, pine roots, grasses, and natural dyes.  She uses several techniques to weave the cap and decorative geometric designs you see here.  The weaver measures the intended wearer's fingers and hand to size the cap. The cap is never measured against the wearer's head!  This method is proven to result in a perfectly fitted cap.
1960.01.170, Photos and text by Lauren MacDonald, MA Student, Department of Biology 
Gift of Paul Murdock.
---
This black-on-white pitcher (c. 900–1100 A.D.) with its bold geometric pattern of interlocking zigzags, is representative of the Ancestral Pueblo culture. Other levels of classification, in addition to "culture," include "tradition" and "type," determined by several factors: where the object was found, clay composition, design motifs, etc.. This pitcher is a bit of an anomaly in terms of type—the design lacks a characteristic common to pottery from this region: hatching (the use of thin parallel lines). This inconsistency raises questions about its classification, which serves as a reminder of the speculative nature of museum cataloguing. 
2006.11.04, Photo and text by Lynne Maphies, First Year MA Student, Department of Art
Gift of Thomas and Barbara Goho.
---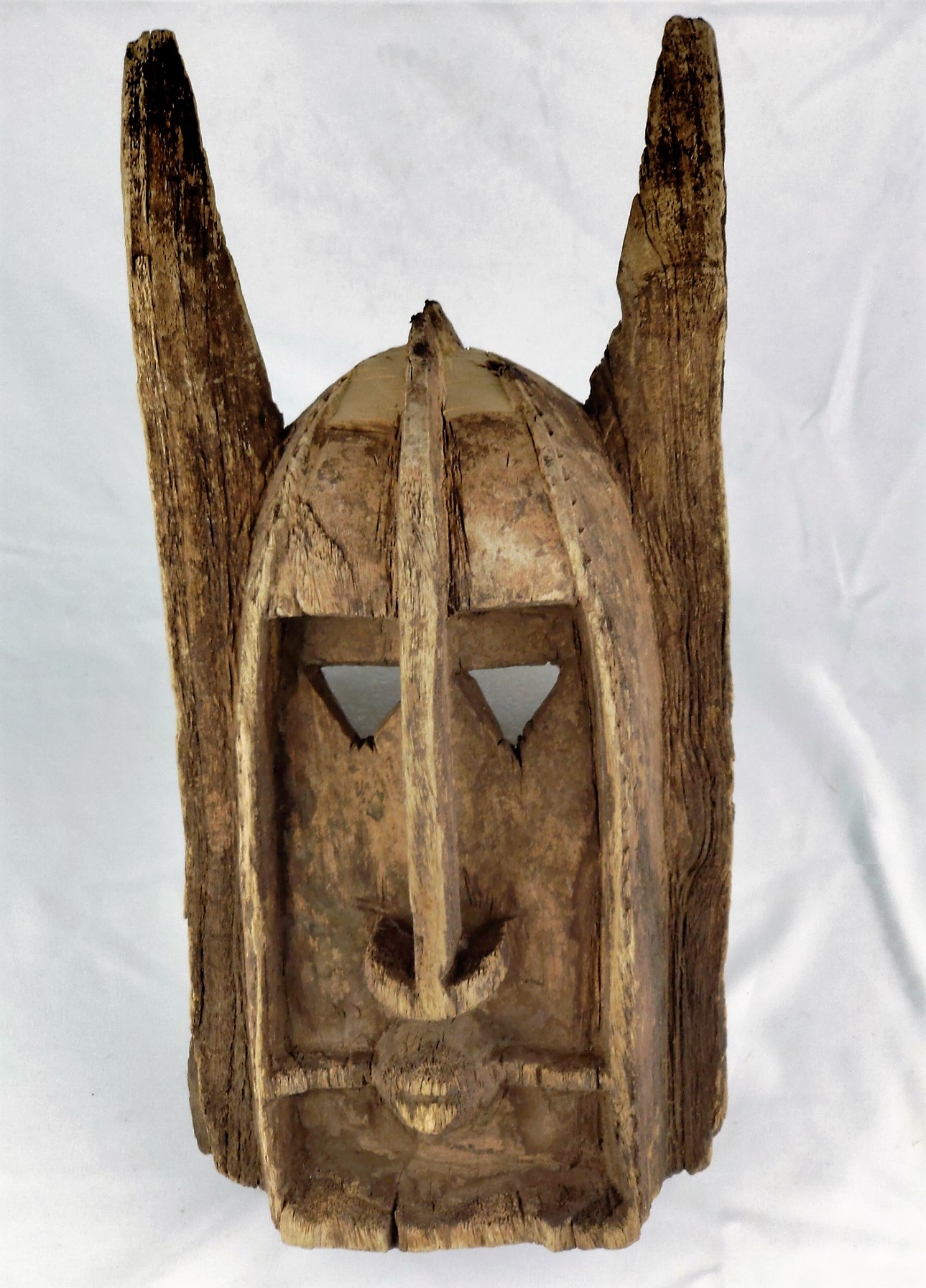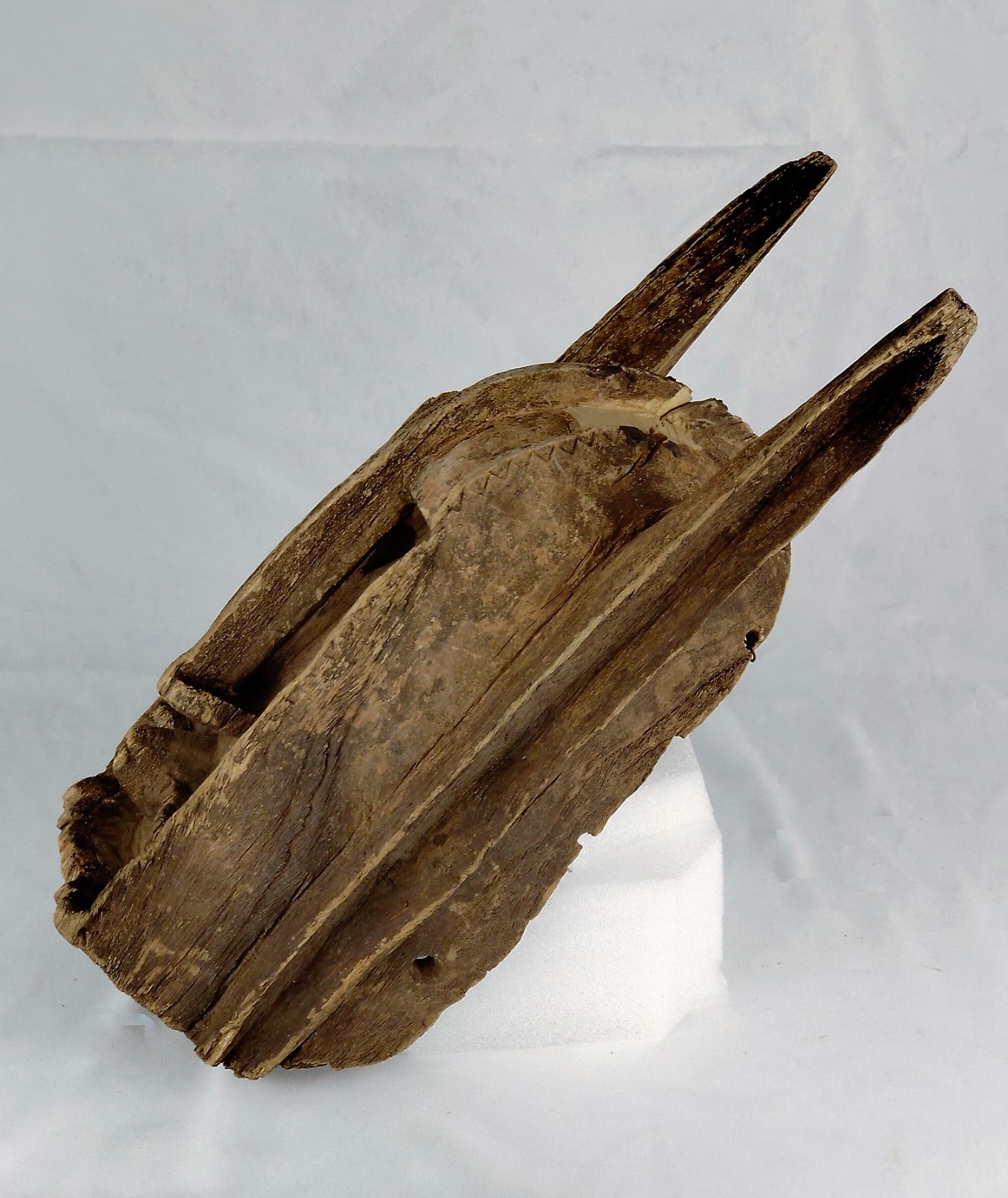 The Dogon people of Mali in West Africa, have been crafting beautiful masks like this representing animals, birds, humans, and more for generations as part of their traditions and beliefs.  The Walu mask, representing an antelope are used in burial ceremonies called 'the dama' where dancers numbering in the hundreds will commemorate Dogon elders and counteract the negative effects of death and restore order to their world. This Walu mask is masterfully carved from the wood of the ceiba pentandra (kapok tree), revered as sacred amongst the Dogon, in a traditional style passed down and protected for generations by the Awa.
2005.17.234, Photos and text by Ash Mattingly, MA Student, Anthropology
Gift of Cheryl Pasternack in memory of Dr. Steve Pasternack.
---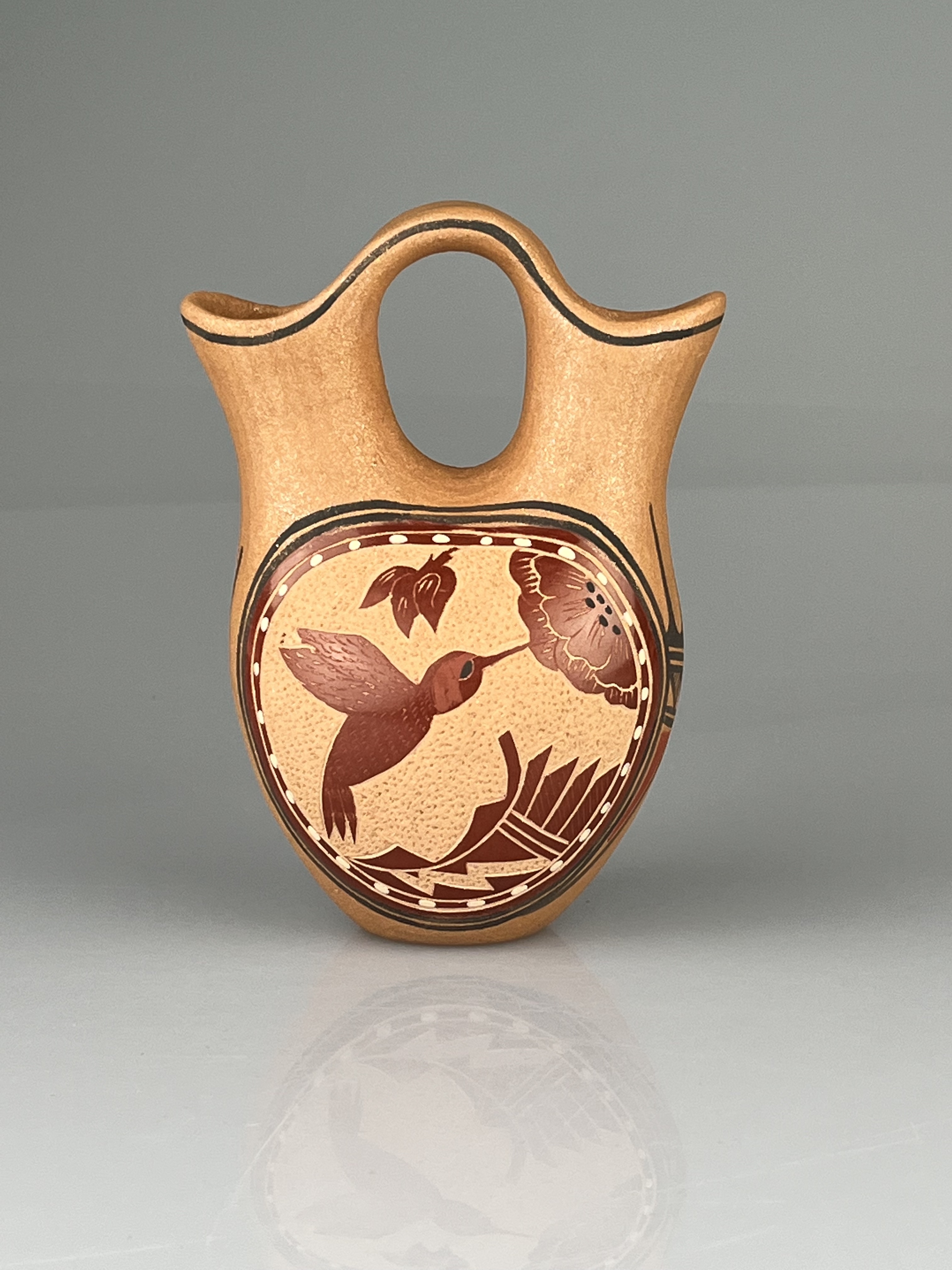 Wedding vases are used in many Native American cultures and are specially designed to have many forms of symbolism. Each spout represents the husband and the wife, the handle represents unity, and the circle in the middle represents their circle of life. During the ceremony the couple drink from each spout representing their unity — if they are able to drink without a spill, this means the couple will have a successful marriage Each family incorporates their family traditions such as the one above made by Helen Tafoya, Jemez, New Mexico. She beautifully incorporates her family symbol, the hummingbird.
2015.04.219, Photo and text by Yesenia Ramos, Psychology major
Gift of Larry Boucher.
---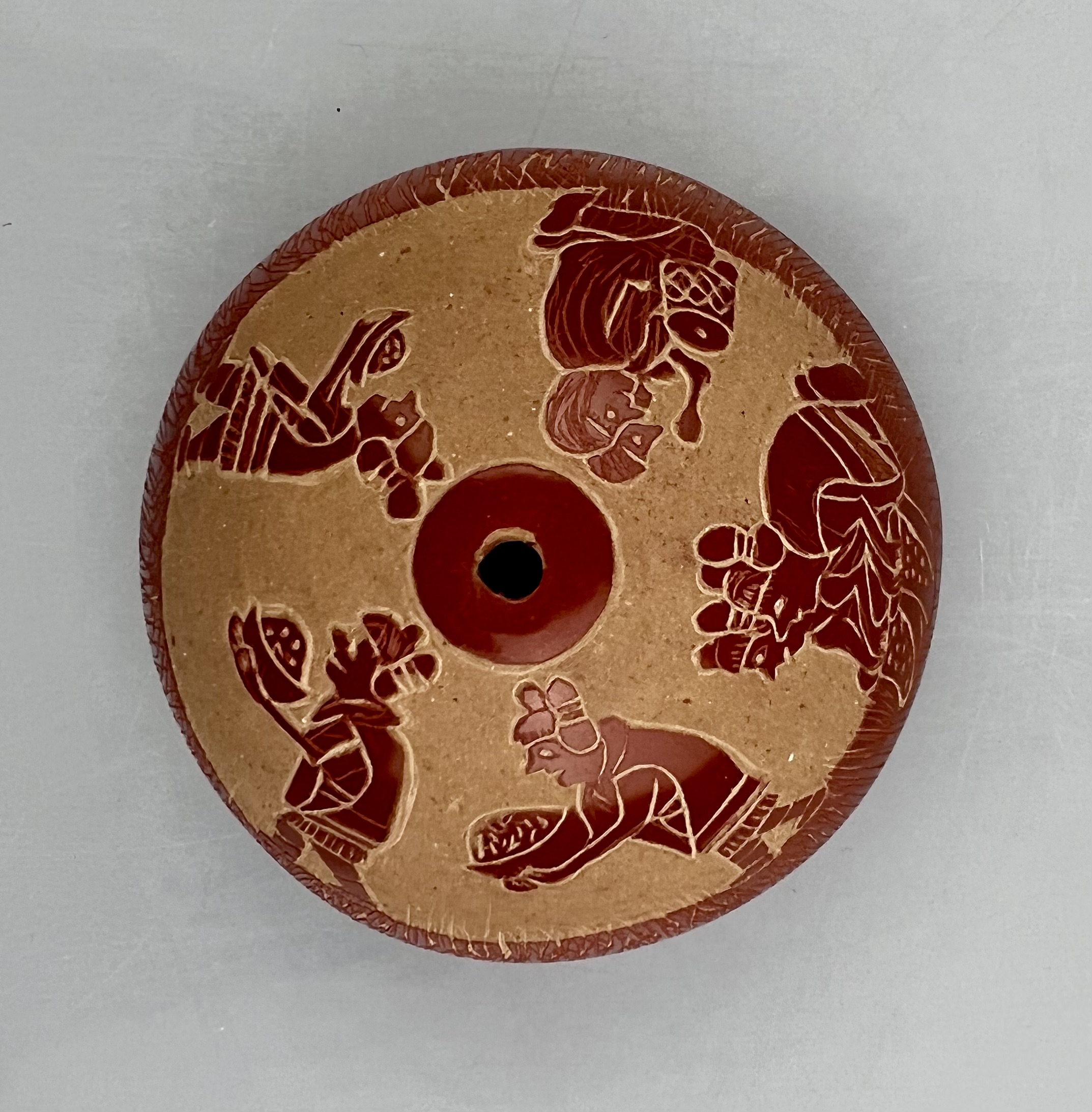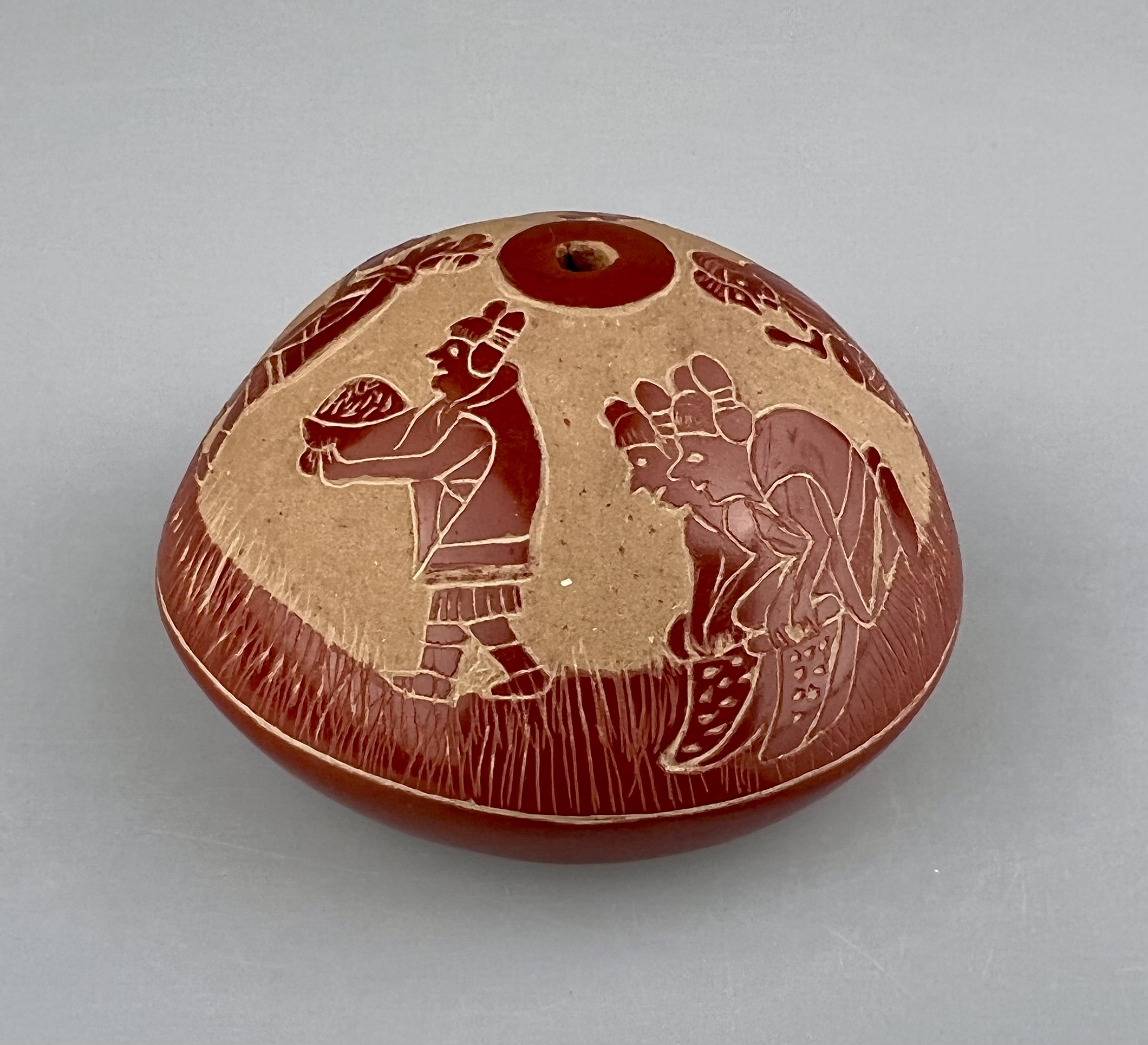 Camilio Sunflower, an artist from the Santa Clara Pueblo in New Mexico, created the seed pot in front of you. Seed pots have been used to collect and store seeds through winter in preparation for the following spring. After winter, the seed pots were destroyed to release the seeds for planting. Now they are created as a form of art that carries cultural traditions. The seed pot's creator carves a design into the wet clay that represents their hopes for the future harvest. Can you identify the scene on this seed pot?
1991.04.162, Photos and text by John Waller, Second Year MA Student, Biology 
Gift of Dr. Florence S. Jenney.