Undergraduate and graduate students in Curator Dr. Kristin Otto's Introduction to Museology / Advanced Museology Spring 2021 class have been engaged in semester-long research projects with items they personally selected from the University Museum's collections based on their own interests. In order to practice sharing their research with broader audiences, students wrote short exhibition labels and took photographs of some of their chosen objects. Students wrote all interpretive text and took all the photographs you see, and we invite you to explore their hard work with our collections! Additional notes from the curator on object provenance are designated with italics.
---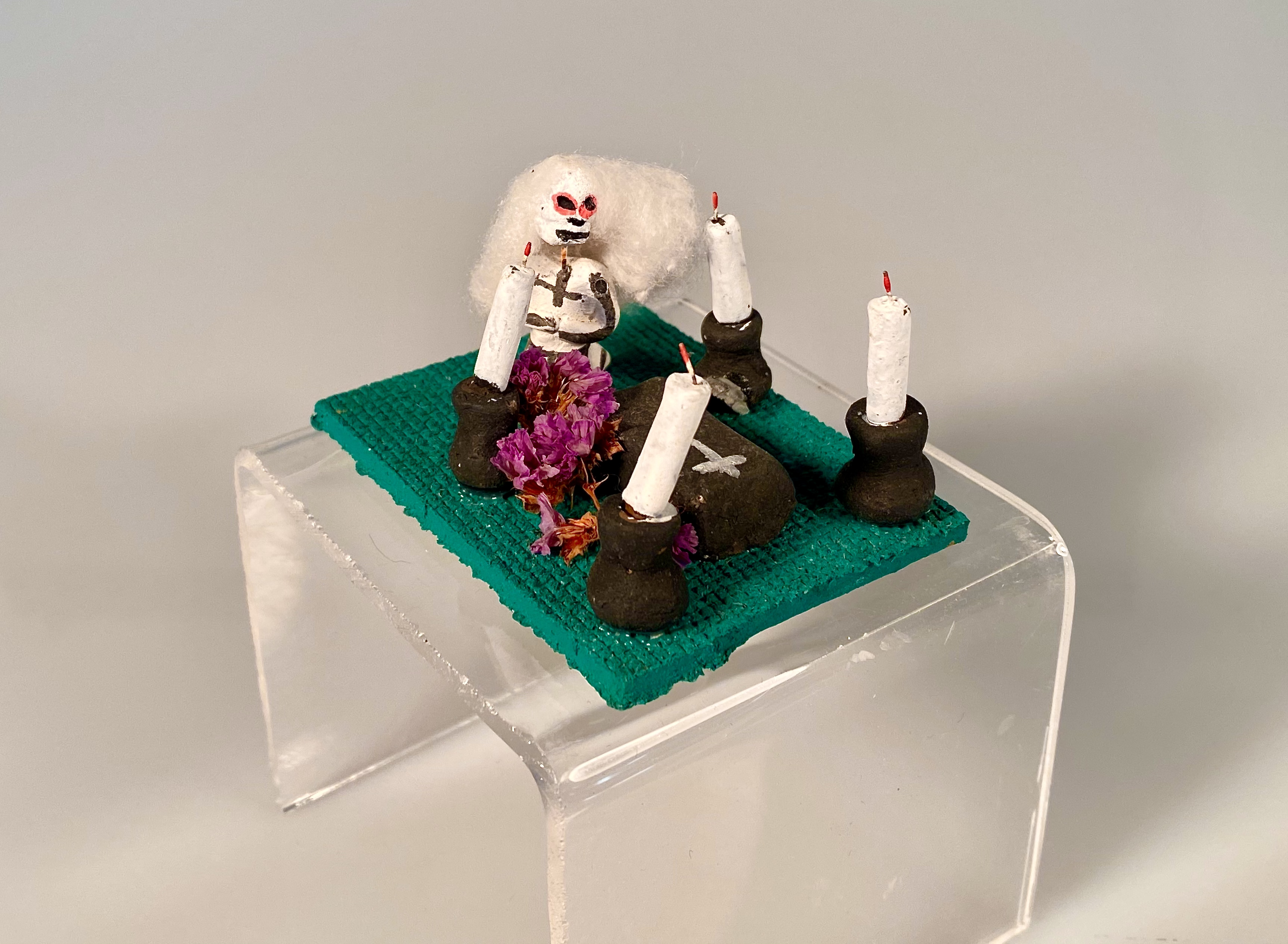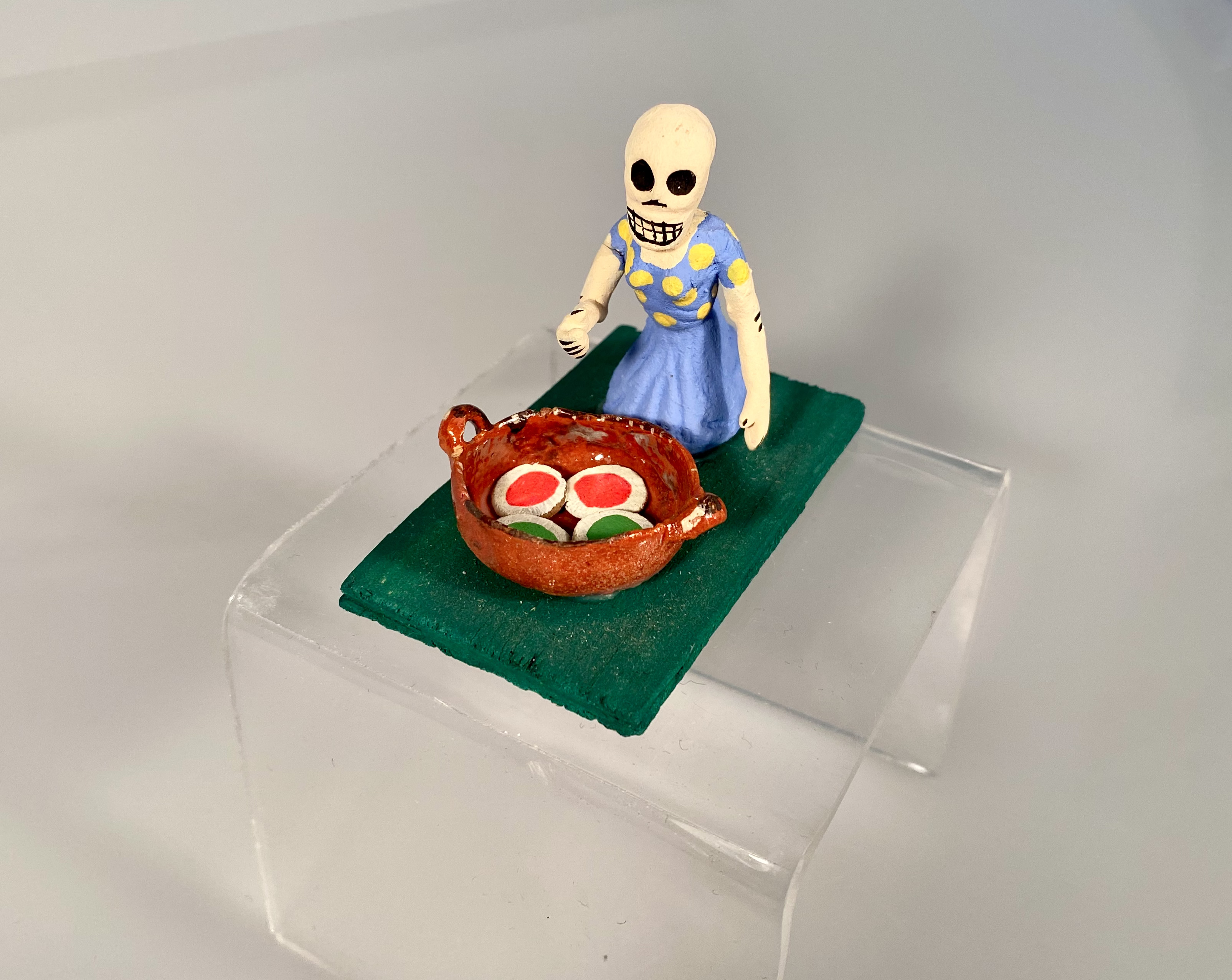 These Día de Los Muertos (Day of the Dead) ceramic figurines represent common beliefs held by peoples of Mexican, Central, and South American descent in which the spirits of ancestors visit the world of the living. Spirits partake in the offerings from loved ones of their favorite things as part of the celebration. The miniature on left represents such a visit by an ancestral spirit, whose journey was guided by the four lighted candles. The miniature on the right depicts a woman in a blue dress presenting an offering of red and green enchiladas—traditional foods—in a glazed earthen pot.
1983.20.07 and 1983.20.08
Photos and text by Kayla Archuleta Brown, MA Candidate, Department of Anthropology
University Museum Staff purchased these small miniatures—along with several others dedicated to Día de Los Muertos celebrations—in 1983.
---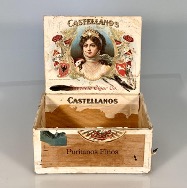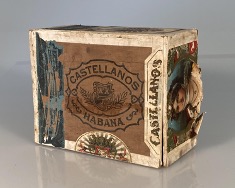 This wooden cigar box created by the El Producto Puritanos Finos cigar company held some of the finest cigars of its time. The El Producto Puritanos Finos cigar company was founded in the early twentieth century. The beautiful artwork on both the outside and inside of this wooden cigar box embody the true craftsmanship of the time. The El Producto Puritanos Finos cigar company sold their products to some of the most elite people at the height of the cigar's popularity. Which celebrities do you think used these cigars?
1969.16.175
Photos and text by Robin Christofani, Double Major in History and Anthropology
The Las Cruces Urban Renewal Agency donated this particular cigar box to the University Museum after removing it from the Adair House on Amador and Main here in Las Cruces—before it was razed in the 1960s.
---
This huipil (blouse) is made of a black cotton fabric with pink brocaded butterfly symbols. The butterflies form a cross on the front surrounded by the embroidered words "AMIGAS DE LAS MUJERES DE JUAREZ" (Friends of the Women of Juarez). It was hand-woven as a single long piece on a backstrap loom, folded widthwise, and stitched up the sides. The huipil is a traditional blouse commonly worn by Maya women. It has been used in Mexico and Central America since precolonial times. Juana Maria Arías Pérez made this one with the weaving co-operative Tsobol Antzetik (Women United) in San Pedro Chenalhó, Chiapas, Mexico.
2012.14.14
Photo and text by Julia Estrada, MA Candidate, Department of Anthropology
Professor Emerita Dr. Christine Eber donated this huipil to the museum as part of an exhibition effort, after acquiring it herself during her long-term work with weavers in Chiapas. The embroidered phrase expressed solidarity with the groups assisting families of murdered women in Ciudad Juarez in their search for justice.
---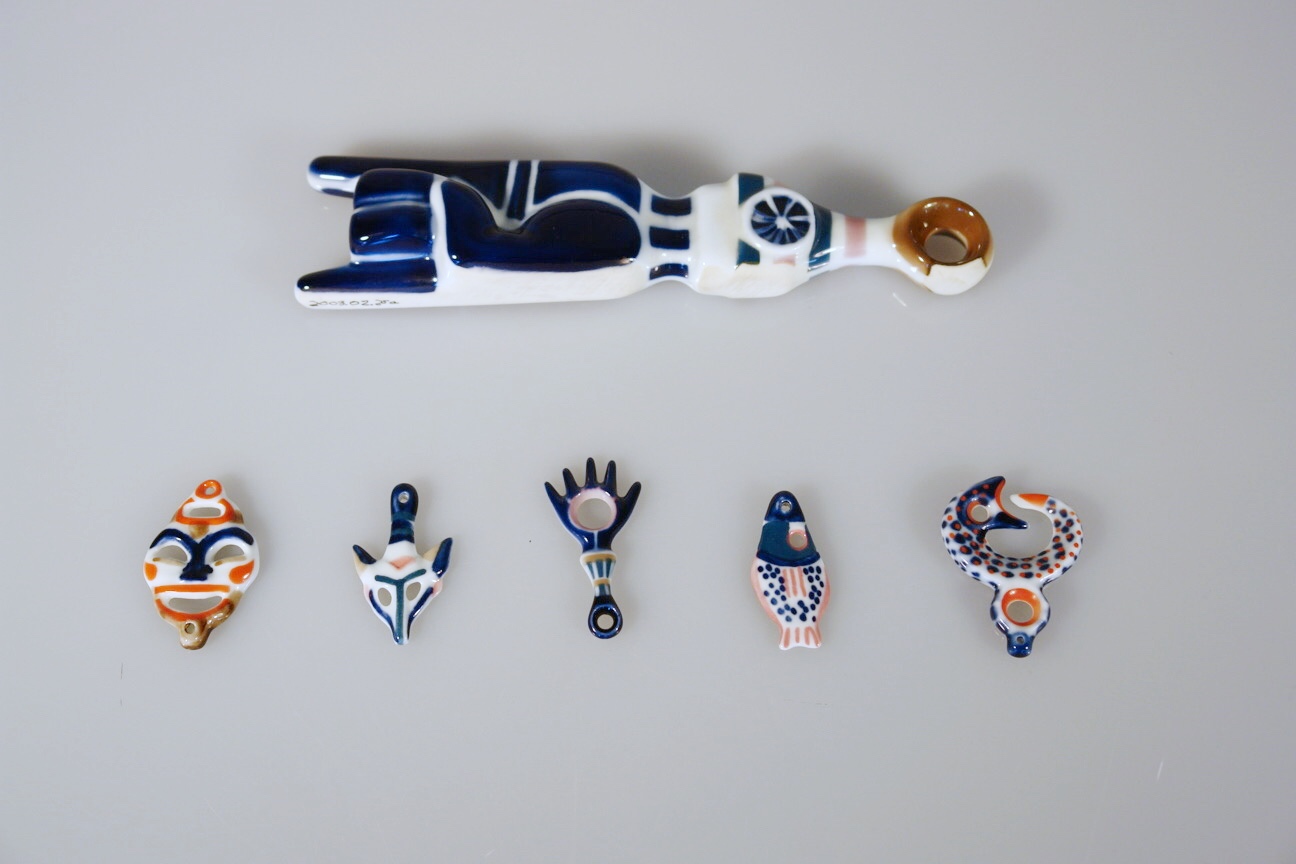 Amulets are portable objects attributed with protective powers for the person who wears and displays them. A ceramics workshop in Galicia, Spain—a region known for its Celtic heritage—manufactured the contemporary, colorful ceramics you see here. Each amulet has an eyelet on top to thread a cord and wear it, offering protection against the evil eye. The amulets' bright and colorful decorations —blue, orange, pink, turquoise, and brown— contrast with their white porcelain body, perhaps to draw the attention of the evil glance at the amulet, distracting the intention from the wearer, and successfully averting the curse.
2003.02.25a-f
Photo and text by Andrea Marañón Laguna, Anthropology Major, Minors in French and Museum Conservation
Anthropologist Theodore R. Frisbie donated these amulets to the University Museum along with many other Spanish ceramics. Dr. Frisbie and his wife Dr. Charlotte Frisbie (also an anthropologist) donated a large number of artifacts to the University Museum over the course of several years (see below).
---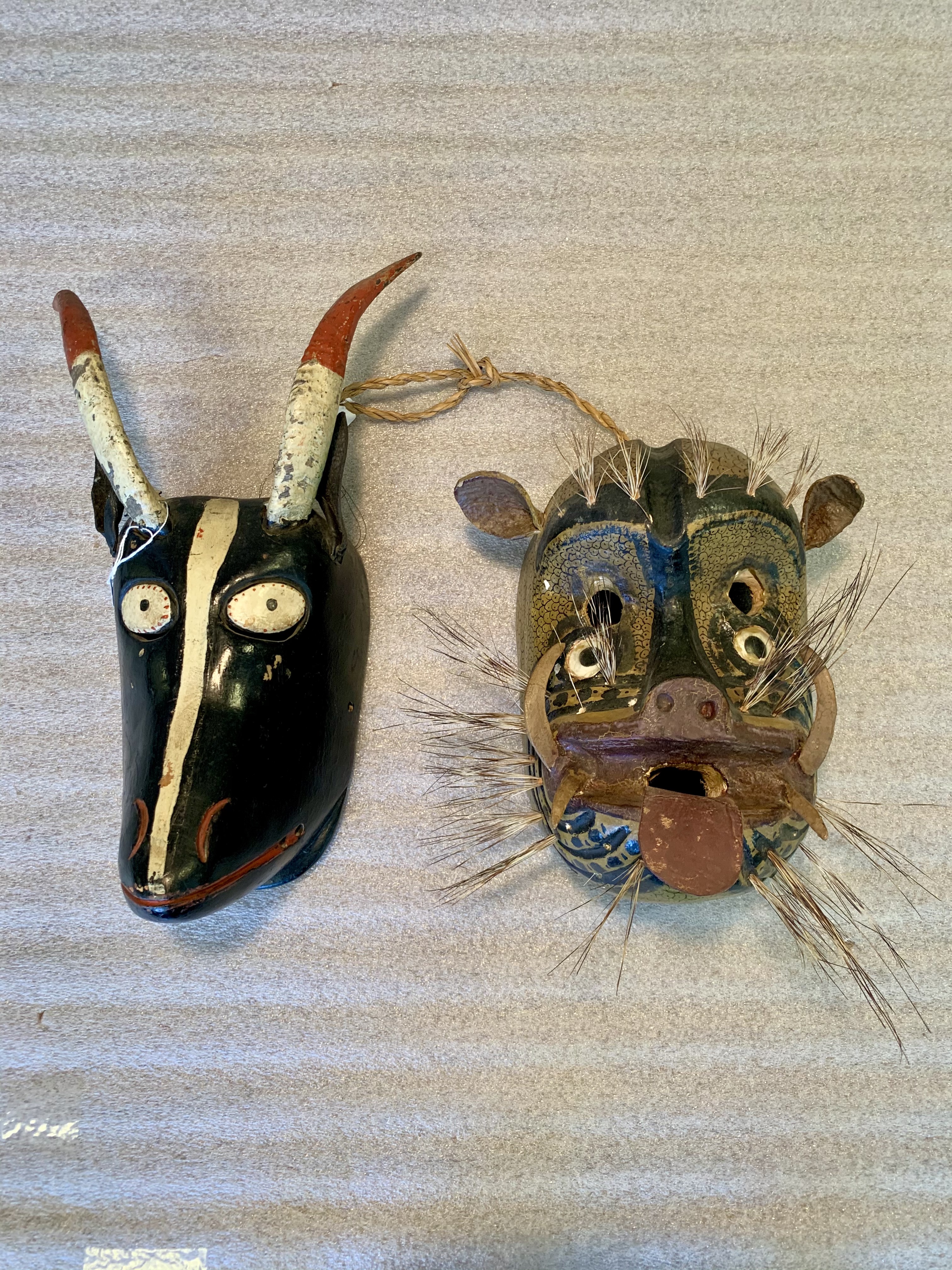 Hand carved masks like these are found across Mexico and are typically used in ceremonial holiday celebrations. Ancient murals depict masks being used for religious ceremonies, but masks were later used again by the Spanish during their conquest to spread Christian beliefs through story and performance. These masks are often made by families of mask makers and not by the dancers who wear them. Each region of Mexico has their unique stories and versions of masks. Masks can be made solely for celebrations or can be produced as novelties purchased by the public and tourists. 
1996.02.04, 1996.02.07
Photo and text by Jessica Padilla, Anthropology Major, Museum Conservation Minor
Former University Museum Director and NMSU Anthropology Professor Dr. Bradley A. Blake donated these masks to the University Museum.
---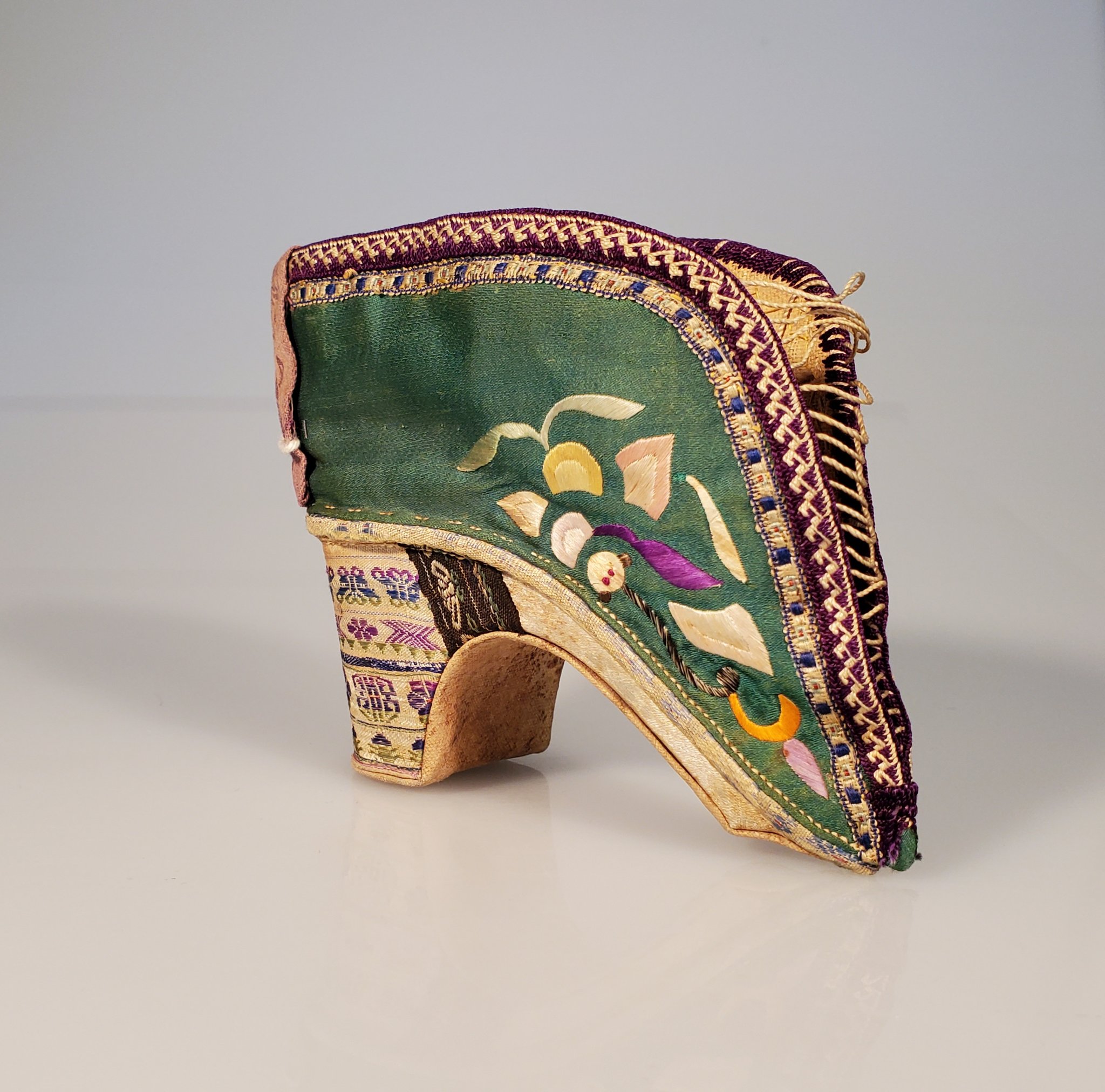 A piece from Dr. Virginia Murdock's work as a medical missionary in China during the late 19th century, the above Lotus Shoe symbolizes a time when the value and beauty of women in China depended on their feet. From as early as the 10th century in China to its decline in the 20th century, lotus shoes were made for women in China who went through a painful body modification ritual practice. Foot binding required the bones in their feet to be broken repeatedly until small, and then bound for years to achieve a hooved-like appearance to resemble a lotus flower.
1960.01.194
Tyler Bautista, History Major, Anthropology Minor
This single shoe along with select other objects from China entered the University Museum's collection within the large collection donated by Paul W. Murdock, consisting primarily of Native American artifacts. His aunt Dr. Virginia Murdock spent some years in China during the late 19th century as a medical missionary, before leaving during the Boxer Rebellion.
---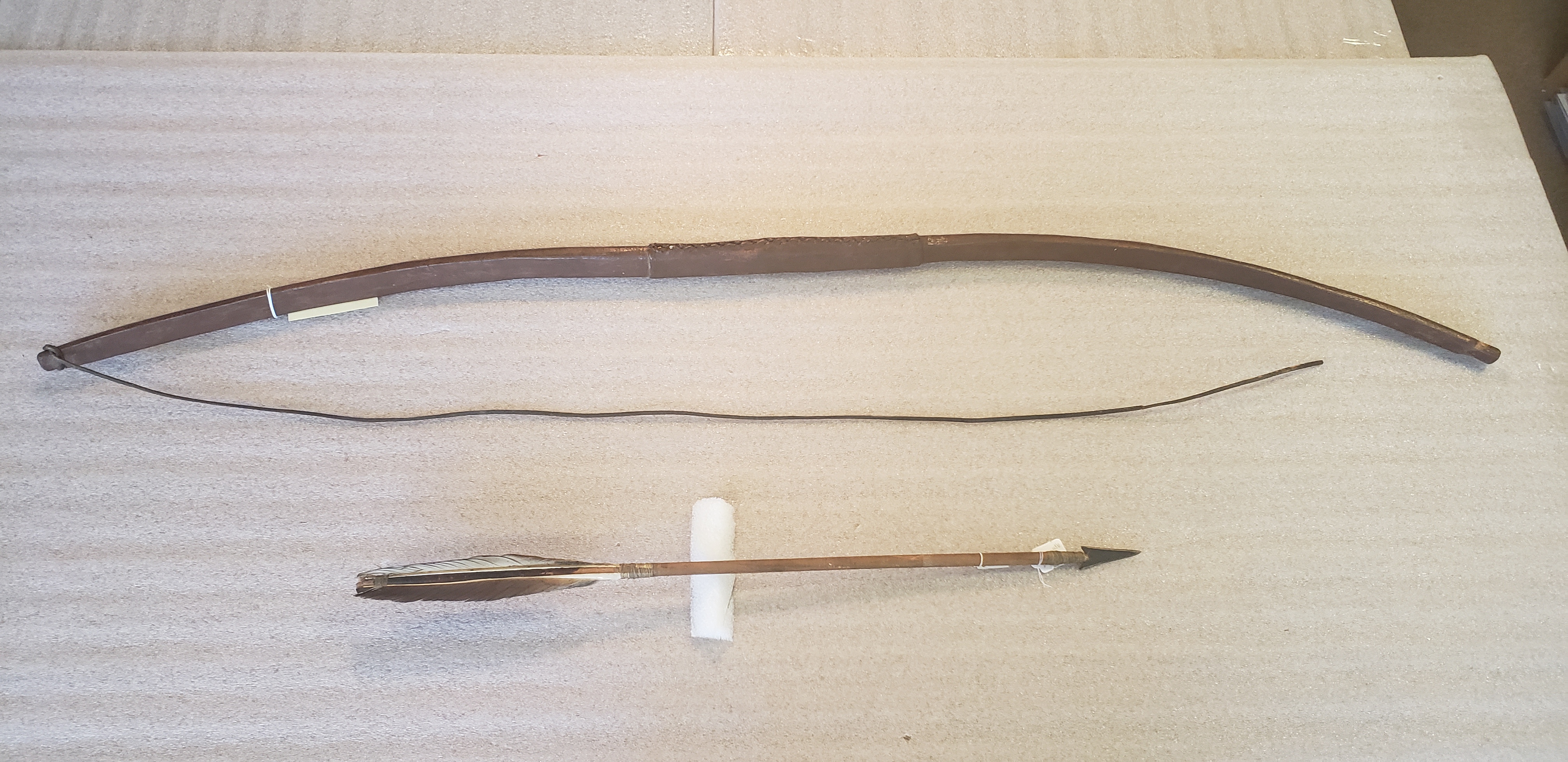 This wooden Navajo bow—made by Jimmy Deschine in 1971—bears a leather grip and has been entirely painted with brown paint. Notice that the string is broken, which may have happened from age, tugging it too hard, or a combination of both. The arrow is also made from wood, but has other materials on it such as feathers from a hawk or eagle, a tip made out of steel, and sinew from animals. (The sinew is the material that looks like string wrapped at the base of the arrowhead and feathers). This particular bow and arrow were not used for hunting. Navajo men like to create arrows and bows because it keeps their traditions alive.
2009.14.48 a,b
Photos and text by Kyler Rodgers, History Major, Anthropology Minor
Jimmy Deschine likely made this bow and arrow during his time leading educational demonstrations and workshops at Chinle schools. Deschine gave the bow and arrow to anthropologist Dr. Charlotte Frisbie during her long term work with Native artists and families in the region.
---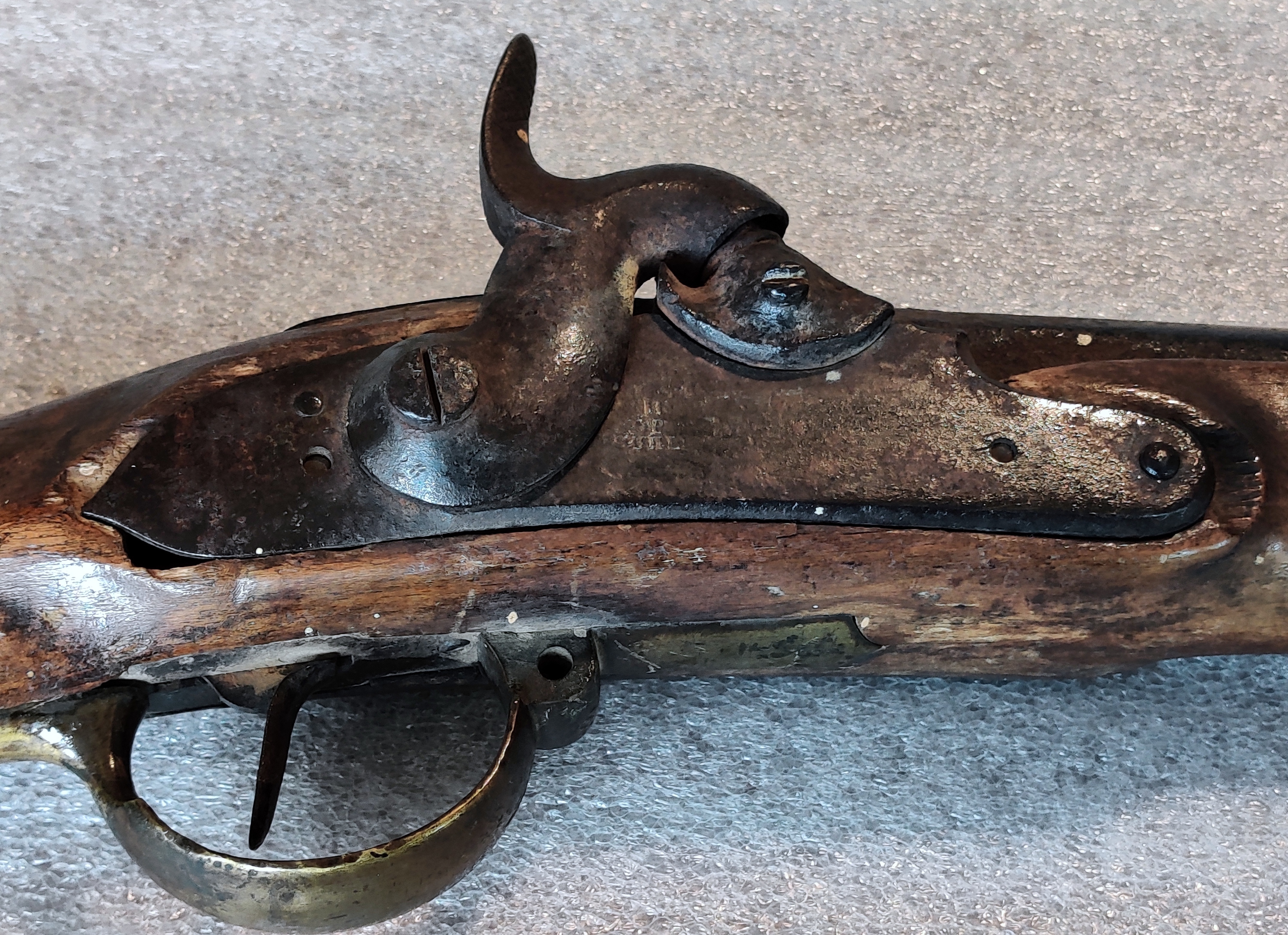 This shotgun, whose oldest parts have marks with dates going back to 1835, is one of the earliest objects to be added to the museum's collections. This gun exemplifies the ingenuity of those trying to survive on the frontiers of the early United States. The presence of a lock guard that does not quite match the wooden stock, and a wooden stock that is cut into two pieces at its end near the barrel, is evidence of a great deal of modification being carried out over many years. These modifications changed the random parts of what was probably once a musket into that of a shotgun.
1961.01.01 (Old museum numbering system 000001)
Photos and text by Kalib Sorensen, MA Candidate, Department of Anthropology
Reva Maude Beem, wife of former NMSU English and Drama Professor W. Earl Beem, donated this shotgun in the very early days of the University Museum, and it was the first object recorded in museum official records.
---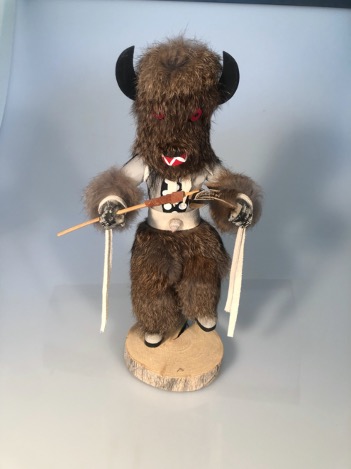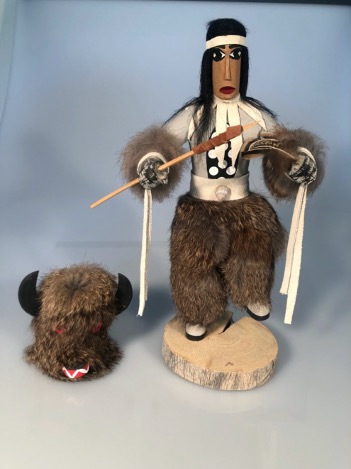 A buffalo (moisaru) katsina doll representing buffalo katsina dancers in Hopi cultural traditions. This particular katsina doll is made of wood, faux leather, paint, a snail shell, and fur, and has a mask that can be removed from the figure to show the dancer's face. The removable mask, thick layers of fur, multiple-mixed media materials, and variations in traditional Hopi iconography indicate this doll was likely made by a Navajo artist. 
2006.18.28 a,b
Photos and text by Ashlyn Wagoner, MA Candidate, Department of Anthropology
Kyle W. Gesswein donated this katsina doll in honor of Sharon L. Gesswein, along with several other katsina dolls Sharon collected from 1970-1990. The base of the doll is signed "C.W. Tom", who commonly created the style with the removable mask.
---