The University Museum recently had the pleasure of acquiring this hand-woven basket by Jicarilla Apache artist Lydia Pesata. Mildred Miles of Las Cruces, NM donated the basket to the University Museum's collection this December. Along with her late husband Charles Miles, Mildred passed through Dulce—the tribal headquarters of the Jicarilla Apache Nation—when traveling the state in 1990. They purchased the basket directly from Pesata after meeting her and learning about her craft.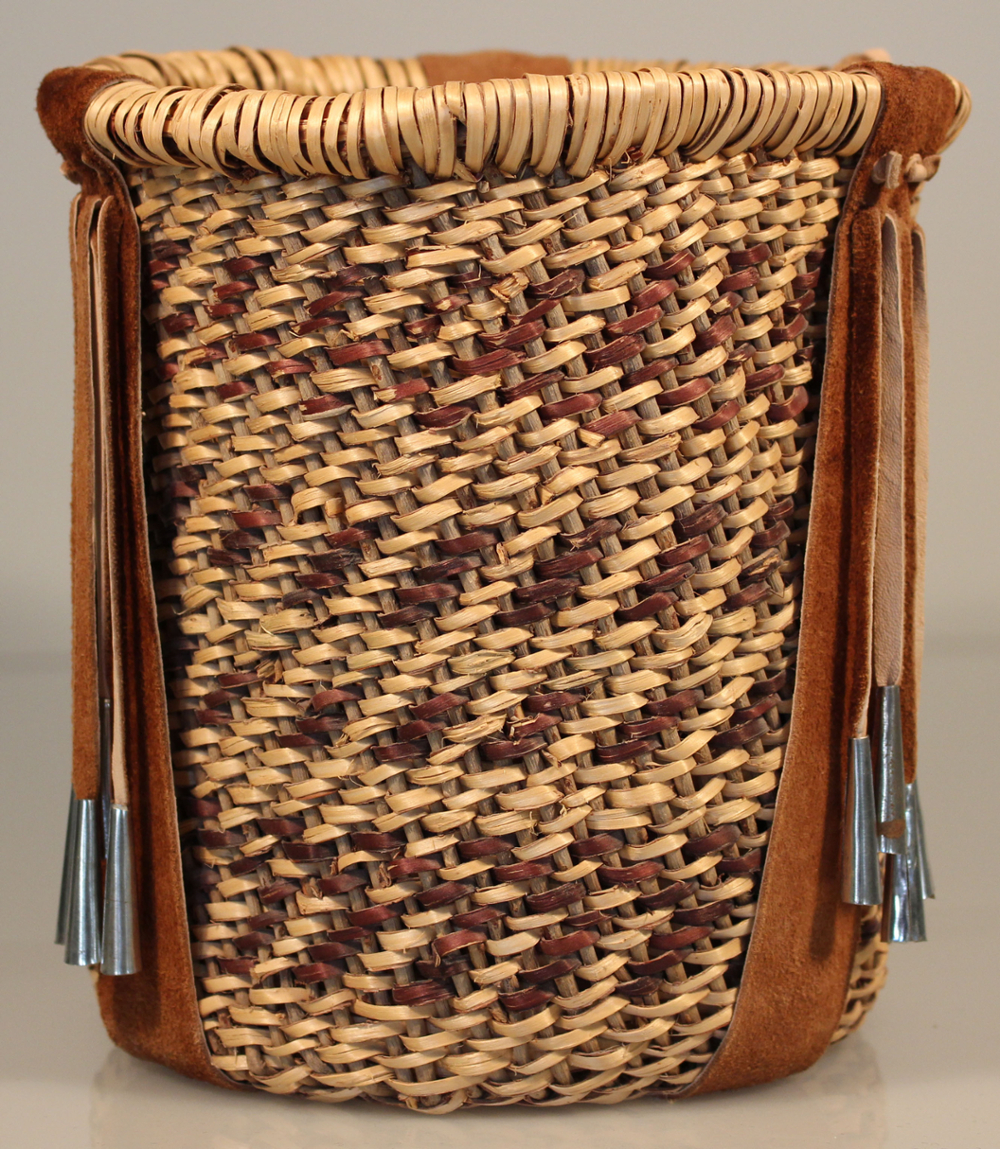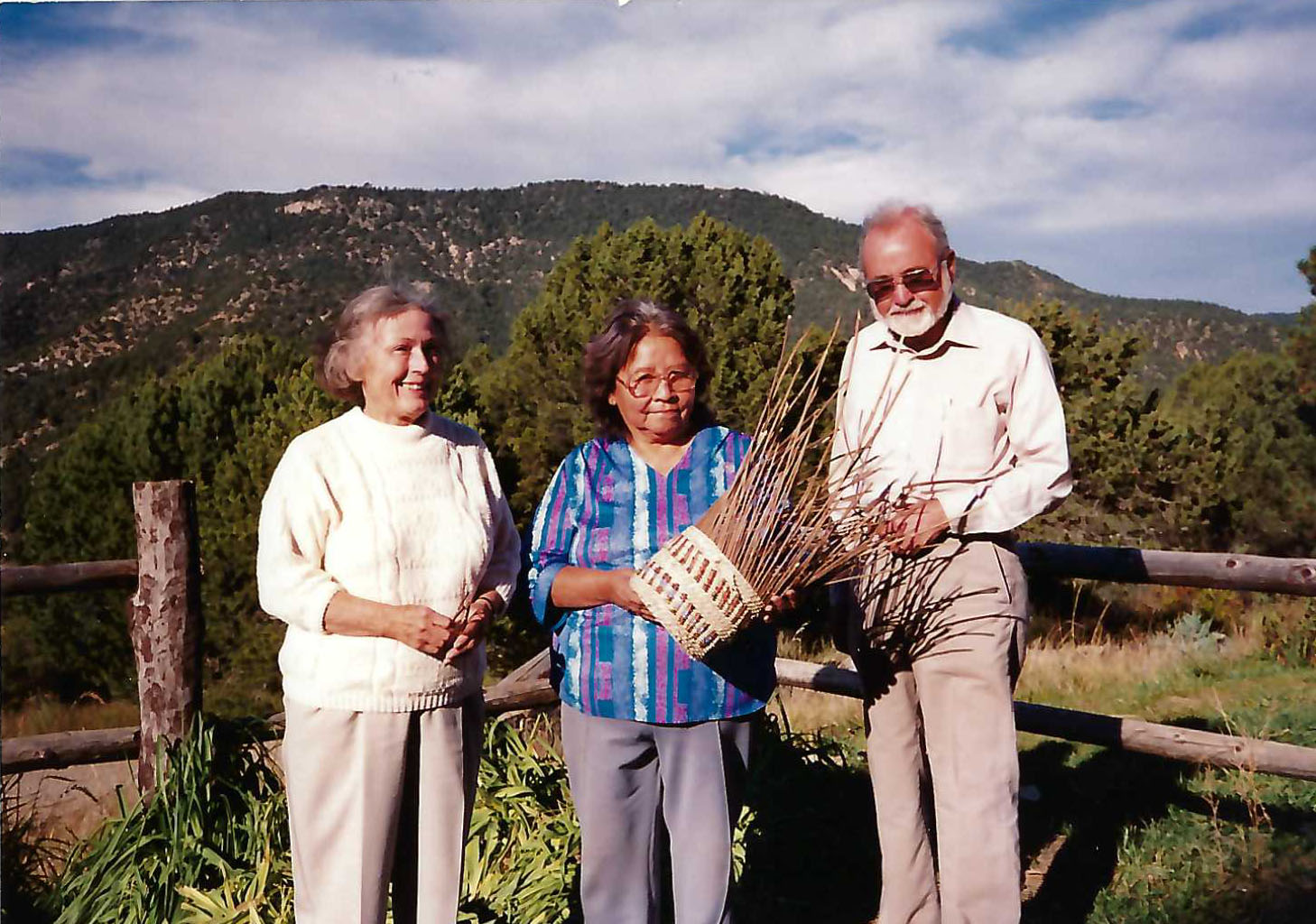 Figure 1 (Left): Basket by Lydia Pesata, Jicarilla Apache, 1990. 2020.01.01, Gift of Charles and Mildred Miles.
Figure 2 (Right): Charles and Mildred Miles with Lydia Pesata (center) in Dulce, NM, 1990. Photo courtesy of Mildred Miles.


Lydia Pesata is widely regarded as one of the foremost Jicarilla Apache basket weavers. She began weaving after watching her grandmother-in-law Tanzanita Pesata (1885-1968), who was also a talented weaver in the community. She practiced replicating the techniques and patterns she saw, and slowly built her skills over time. Lydia Pesata spoke about this process of learning and innovation in an interview with art historian Barbara Mauldin:
"It took me about five years to learn to weave baskets by watching my husband's grandmother. That is when I got interested in plant dyes, because I wanted something that wasn't so bright. I like to go out and hike around looking for new plants to experiment with." (Mauldin 1984, 40)
As she alluded to in this statement, Lydia Pesata is well-known for her use of natural dyes to pigment the willow and/or sumac reeds used to weave her baskets. The University Museum's basket likely includes these natural dyes in the diagonal patterns you see on the exterior. However, this basket is also an interesting example of Pesata's weaving as it deviates from the most common styles and techniques of Jicarilla Apache basketry.
The vast majority of Jicarilla Apache baskets are made with the coiling technique, which involves stitching together coiled bunches of fibers. However, instead of coiling, Lydia Pesata created this basket using the technique of twining, which is far more common among examples of Western Apache basketry. She wove the flexible (weft) fibers in and out of the more ridged vertical spokes (warp) that form the overall structure. (See Figures 2 and 3 below to compare and contrast these techniques). Although not the same basket as the one in the University Museum's collection, Lydia Pesata is holding a twined basket in-progress in the photo with Charles and Mildred Miles (Figure 1 above).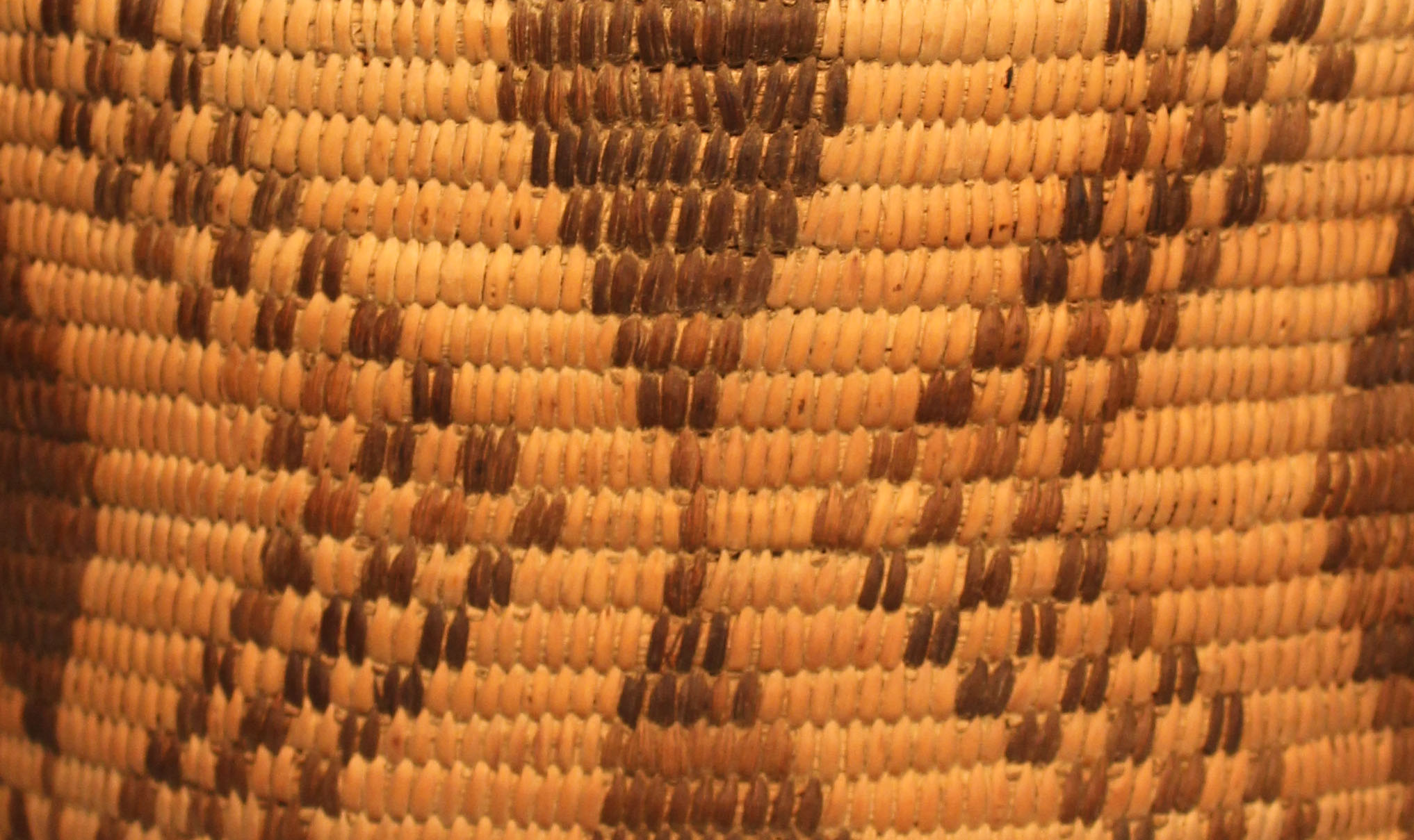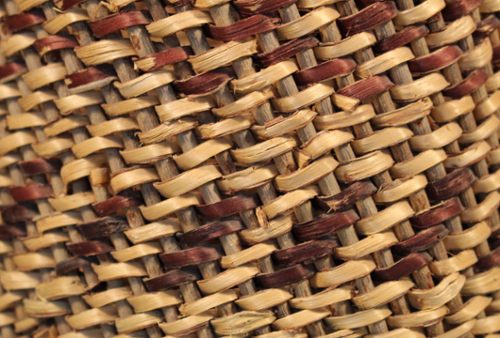 Figure 3 (Left): Detail example of coiling technique from Western Apache Basket. 1990.01.169, donated by Paul and Sadie Grace Murdock.
Figure 4 (Right): Detail example of twining technique from Lydia Pesata's basket. 2020.01.01. Gift of Charles and Mildred Miles.


Although less common than coiled basketry, examples of twined Jicarilla Apache baskets can be found in the historical and contemporary collections of museums throughout the United States. It is most common in baskets of this particular shape and form, often referred to as "burden baskets." Made in either conical or cylindrical shapes like this one, baskets of this type decorated with buckskin fringe and aluminum cones that produce a jingling noise would have been used to carry a variety of materials in everyday life and on ceremonial occasions. Given the small size and commercial buckskin, Pesata likely made the basket now in the University Museum's collection specifically for sale, perhaps while experimenting with different techniques and forms.
References:
Mauldin, Barbara. 1984. Traditions in Transition: Contemporary Basket Weaving of the Southwestern Indians. Santa Fe: The Museum of New Mexico Press.