This guest post was written by Samantha Corral, an undergraduate Museum Conservation student at NMSU, who completed an internship with the University Museum during the Fall 2020 semester. 

My name is Samantha (Sam) Corral, and I am currently a 4th-year student at New Mexico State University majoring in Museum Conservation with a minor in Anthropology. I decided to intern at the University Museum this semester to get hands-on experience related to my interests in both conservation and anthropology.
This semester interning at the University Museum was fascinating because I had the opportunity to work with textiles that I've never worked with before. I got to meet some incredible people during my time there. Because of the pandemic, we had to isolate ourselves from working closely with one another. Unfortunately, the in-person element of my internship ended sooner than expected due to the changes in social distancing guidelines. But it was not necessarily a bad thing, as I was able to spend a good amount of time working independently on the inventory and condition assessment of some of the museum's textile collection. 
During the internship, I inventoried the rolled textiles stored in the museum's Textile Room. I would note the location of the textiles (many were rugs) and what type of condition they were in. I would take photographs, making sure to get the front and back as well as any areas that seemed damaged. I would then take their assigned files from the filing cabinet to learn from any background information. The information would tell me where the rug originated from, how it came to the museum, and (if any) where the damage is and whether someone repaired it. All this information would be handwritten onto a cataloging sheet to be transferred to the database later.
As I was working with the rolled textiles, I also gained experience with the best practices of textile handling and preservation, including unrolling, rolling, and storage conditions. In museum storage, rolling large textiles like these prevents damage from folds and creases over time. In this process, I had to be very careful handling the rugs because of potential damage and fragile materials. I would carefully place the textile on a covered table and slowly roll/unroll the textile on acid-free tubes and tie securely with cotton ribbon. The rugs varied in size from very small to very large, but they were all fun to work with.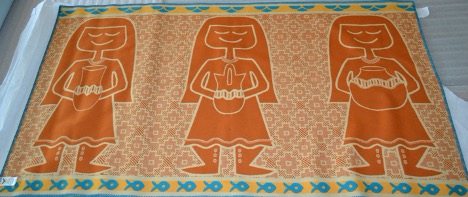 2017.11.01, "Three Pueblo Potters" Pendeleton Blanket designed by Jody Naranjo (Santa Clara Pueblo)
My favorite part of the entire internship was working with such beautiful rugs and blankets that I had never seen before. My favorite one by far was the Pendleton blanket "Three Pueblo Potters" designed by Jody Naranjo from Santa Clara Pueblo, because of the colors and designs. The three female figures on the blanket represent family members who from generation to generation taught their daughters how to create pottery and the symbolism behind the pottery. It's a beautiful meaning to understand why each figure is on the rug. 
Although this semester was short due to the pandemic, I had a fantastic experience. Being able to have hands-on experience with the textiles was terrific, and being able to step into the museum every week was a blessing in disguise. It gave me a glance of what interests I might have for a future career path, such as a museum conservator or professional working at different museums. Knowing this has made me excited for what the future has in store for me.