For my graduate thesis, my goal is to reanalyze artifacts collected from the 1976 New Mexico State University archaeological excavation at Berrenda Creek in southwestern New Mexico. This reanalysis will focus on the existence of various ceramic typologies at the site and their associated time periods of use. This data will hopefully give some cultural and relative temporal context to possible site use of  Berrenda Creek's pueblo. The reanalysis of artifacts will focus on how this site may have been used and how it fits within the larger cultural network of sites in the region. This study will also take on Berrenda Creek as a potential case study for how scholars can use 'legacy' or old collections to answer new research questions about past humans and their relationships with the environment.
The curation of this collection has become a significant reason for conducting this thesis work. Older collections like Berrenda Creek are often not applied to new research endeavors and, therefore, remain in the basements and closets of archaeological repositories. More often than not, these collections are not updated in their curatorial or conservational integrities. Because Berrenda Creek is not only applicable for new research endeavors on the Mimbres region but also serves as an example of a 'legacy' collection, Berrenda Creek will be an example of collection-based research on a legacy collection. In addition, I have received funding through the Southwest and Border Cultures Institute's (SBCI) Graduate Student Research Grant. All funding from this grant will be used toward the update of archival standards for the Berrenda Creek collection so that current and future research can be conducted on the materials.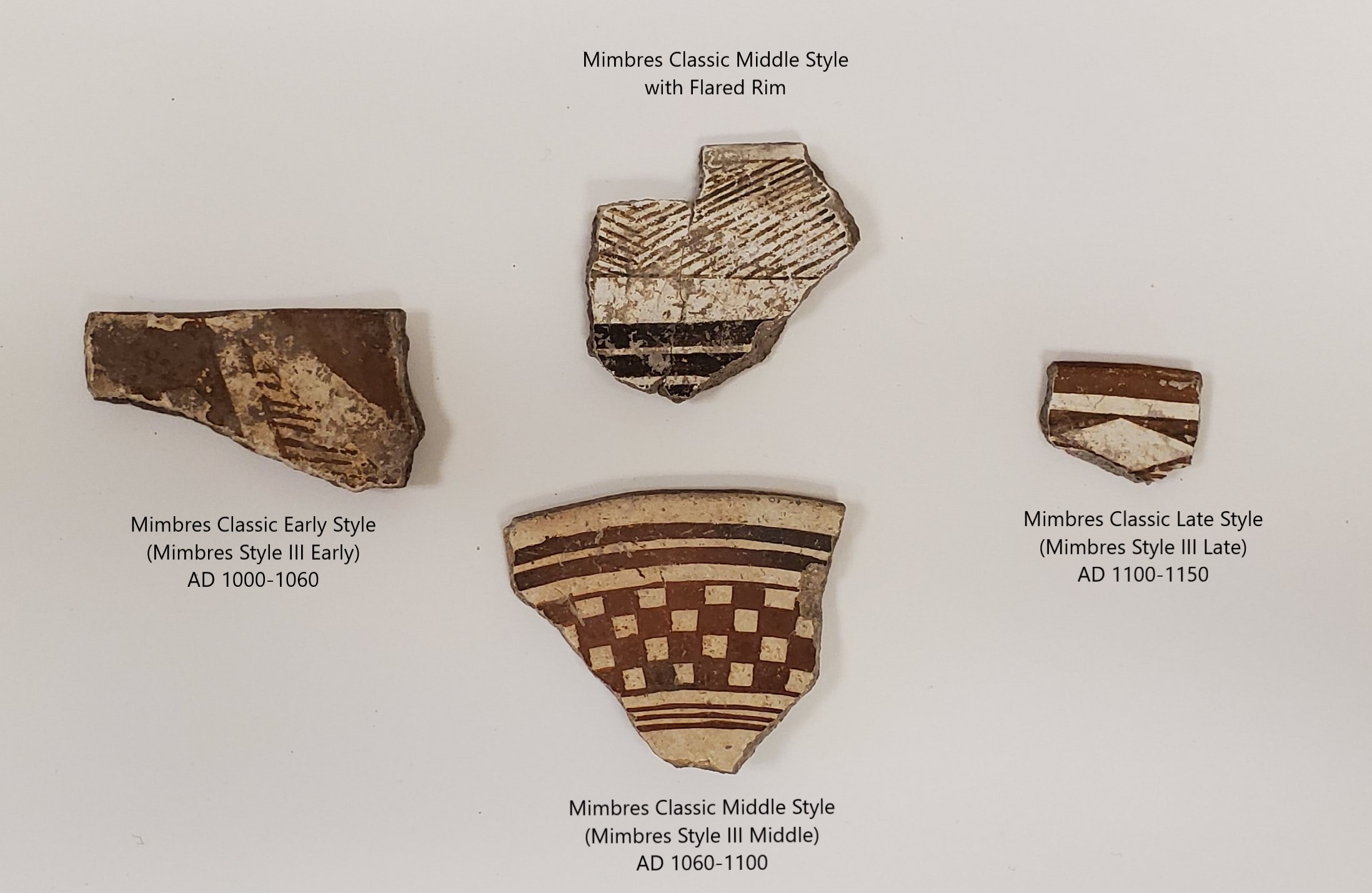 Sample identification of sherds from Berrenda Creek. Photo by Lindsey Cron.

My current process mainly involves the individual identification of all pottery in this collection. There are thousands of pottery sherds in this collection, each having various levels of identification already conducted from past projects. I have decided to restart the entire process of typing and identifying the pottery so that it can be consistent and traced back to the determinations of one person. My experience with pottery of the southwest is an ongoing learning process, but in restarting and reanalyzing the pottery from the beginning, there are better odds of consistency in both possible mistakes and accuracies. In the process of individually identifying sherd types, I am especially focusing on rim sherds as ideal specimens for proving typologies and, therefore, associating certain cultural-temporal affiliations for the site.
As I work through all of the pottery, I am using better standards of curation and documentation that were previously established for the collection. I am re-bagging and reorganizing the collection so that it remains similar to the original intentions set forth in the initial catalog of materials, but I am ensuring all materials can be found quickly through logical organization of objects and accession numbers. Archaeological collections that were collected decades ago can often have problems with artifact loss, theft, misplacement, or damage over time. Berrenda Creek has been no exception to these issues, but I hope that my ongoing work will help to reduce these problems in the future. This project is meant to not only apply archaeological research methods but also to make this legacy collection more accessible and useful to the archaeological community.
- Lindsey Cron, University Museum Graduate Assistant, Anthropology M.A. Student